Percentile Rank
The Legend of Zelda: A Link Between Worlds is ranked in the 98th percentile of games scored on OpenCritic.
Rating Summary
Based on 58 critic reviews
OpenCritic Rating
Based on 58 critic reviews
Score Distribution
Unscored Reviews
A fresh direction for the franchise, dressed up as an older game so we don't feel all awkward about it.
The Legend of Zelda: A Link Between Worlds is an amazing accomplishment; it manages to root itself deep in the fertile nostalgia millions of gamers have for A Link to the Past while simultaneously morphing classic Zelda mechanics and introducing brand new ideas that fit in perfectly with the storied franchise.
Eurogamer
No Recommendation / Blank
It is a grand game in its own right and deserves its place alongside the best in its franchise.
Link Between Worlds ran the risk of being nothing more than a nostalgic trip down memory lane, revisiting one of the most beloved games in the series, thankfully Nintendo have manage to couple the LTTP memories with some of the best, more unique design seen in the Zelda series in quite a while. If the more handholding nature of recent Zelda games has dampened your enjoyment then the open world nature of Link Between Worlds will be a blessing. In a holiday season dominated with next-gen talk, Nintendo have come out and shown that resolution and graphical power mean nothing without games. And that's what this is, a damn great game.
New bells and whistles aside, how many more times do I want to do this? I'm sure I'll play the next one.
Scored Reviews
A Link Between Worlds deserves its place among the great Zelda games of yesteryear.
The Legend of Zelda: A Link to the Past on the Super NES was arguably the greatest Zelda game ever. The Legend of Zelda: A Link Between Worlds on the Nintendo 3DS beats it.
For 26 years, I've been waiting for a true follow-up to the first Legend of Zelda, a game that captured my imagination and catapulted me into becoming a lifelong fan of action-adventures and role-playing games. A Link Between Worlds recognizes that it's not tacked-on stealth segments or waggling a controller to roll bombs that makes Zelda tick—it's the unbounded exploration and freedom found in the NES original, and it's finally back in full force here. Every Zelda fan needs to play this game.
Painting over any cracks that were starting to appear in the Zelda series, A Link Between Worlds is a refreshing experience and another Nintendo 3DS masterpiece.
The three-dimensional experience made possible by the 3DS is an essential part of the game itself, providing the best use of the effect on the console to date. The entire world and its inhabitants are molded with this experience in mind, and the result is a flawless addition to the Legend of Zelda series, and arguably the best in many years.
Zelda fans will continue to be spoilt by a spectacular ride through Link's first 3D adventure. With a top-notch soundtrack, lovely visuals and addictive gameplay, you can't ask for much more.
Without a doubt, The Legend of Zelda: A Link Between Worlds is currently the greatest game you can experience on the 3DS. Much like the legendary Master Sword that features throughout the series, this game is beautifully crafted and offers a superbly streamlined and timeless gameplay experience. Through Link's new transformation ability Nintendo has instilled a magical amount of innovation into the dungeons, boss battles and even the wider exploration of both Hyrule and Lorule; it's a small feature which makes a world of difference and continuously wows you throughout the entirety of your playthrough. In other areas, Nintendo has made all the right changes to the gameplay formula, resulting in a game that is always incredibly good fun to play. Long-time fans will certainly get a kick out of its nostalgic presentation, while all players will appreciate its impeccable design and superb usage of the 3DS's touch screen.Eiji Aonuma and his team at Nintendo set themselves the unenviable challenge of creating the perfect Legend of Zelda game; with A Link Between Worlds, they may well have achieved just that.
[P]ossibly the most impressive thing A Link Between Worlds achieves is constant surprise.
It rewards those of us who know A Link to the Past's version of Hyrule like the back of our hand, but makes enough concessions for those who didn't play the original the first time around. It may be a shorter and less challenging adventure than many would expect for a modern Zelda game, but when that journey is so incredibly satisfying, you won't feel short changed. I can't think of a better way to end a brilliant year for the Nintendo 3DS than by playing one of the best games released on the system so far.
The latest adventure starring Link is The Legend of Zelda: A Link Between Worlds, a sequel to 1991's The Legend of Zelda: A Link to the Past.
The Legend of Zelda A Link Between Worlds takes Link into a fully functional 3D world that not only pays homage to the games of yesterday but modernises the franchise into something thoroughly enjoyable and challenging to the gamer.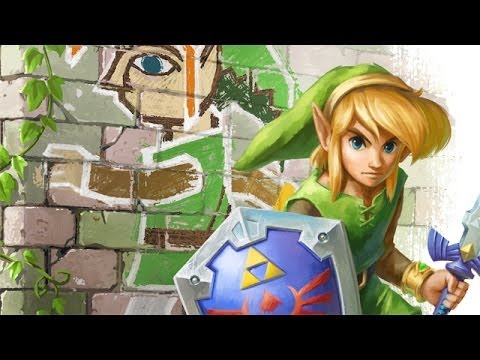 For those who never played A Link to the Past, A Link Between Worlds is simply an exceptional game. For those like me who have fond memories of the original though, it feels like a carefully crafted love letter. Being able to explore an old world with a new twist was an absolute treat, and I loved visiting places and characters that I remembered from before, as well as discovering new ones. From the first musical notes of the opening to the last boss fight, the game is classic Zelda, and as soon as I finished it I was ready to start all over again. Simply put it's one of the best games available on the 3DS or anywhere else, and it's a must play.
The Zelda series returns to its roots on 3DS, but uses the opportunity to introduce some fascinating new ideas. Classic gameplay, infused with fresh concepts and graced with stellar graphics and sound, make A Link Between Worlds one of the best games in the Zelda series and a must-own title this holiday.
Despite being a relatively short game (between 18 and 20 hours) I consider A Link Between Worlds one of the best games of the saga.
Review in Spanish | Read full review
Digital Chumps
9.6 / 10.0
A stellar game all the way around. A Link Between Worlds maximizes the concept of depth, from the 3D, to the 2D mechanic, to the characters. This game certainly fits well in the pantheon of amazing Zelda games.
It's incredibly difficult for me to talk about A Link Between World without sounding like the complete Zelda fanatic that I am, but it really is a magnificent game. This is the Zelda title I've waited a decade for, and not only is it by far the best game since The Wind Waker it is also better than the GameCube classic in every area of the series I enjoy the most.
NintendoWorldReport
9.5 / 10.0
Since it follows the roadmap so closely, it's not quite as fresh as the SNES classic was in 1992, but that doesn't make it any less of an amazing experience. A Link Between Worlds is a delightful adventure that hits every high note a 2D Zelda game has ever produced while creating many new hallmarks of its own. In a year filled with quality 3DS games, A Link Between Worlds is another fantastic entry on a system that is quickly becoming home to a number of instant classics.
Post Arcade (National Post)
9.5 / 10.0
Without a doubt, this is the best Zelda game in a decade, and maybe even the best one since Link to the Past was released 22 years ago.
The Legend of Zelda: A Link Between Worlds is a daring step forward for the franchise, and the best Zelda game in a decade.
What could have been an easy sequel that traded on past glories is instead a compelling argument for digging up the foundations of Zelda and seeing what happens - rather like Wind Waker did 10 years ago. A Link Between Words is not a total revolution, but it may very well be the start of one. I haven't been so challenged by a Zelda since Ocarina of Time, and rarely have I been so consistently surprised by one.
A Link Between Worlds is one of the 3DS's best games and a new highlight in one of Nintendo's most storied franchises.
More than just fan service, The Legend of Zelda: A Link Between Worlds is a modern approach to the world established by the 1991 SNES adventure, A Link to the Past. Traverse the same overworld to uncover a brand new system of delightful dungeons — a familiar formula injected with fresh abilities and mechanics. This homage to a classic is itself an instant classic on the Nintendo 3DS.
The Legend of Zelda: A Link Between Worlds is packed full of enough canny puzzles and clever dungeons to make the experience feel as fresh as its iconic predecessor.
The Legend of Zelda: A Link Between Worlds is one of the most fun Zelda titles on the market, and it's easily the best handheld Zelda game since Link's Awakening. It's well crafted, fun to play, charming and interesting, and it mixes up the Zelda formula in some exciting ways while maintaining a healthy dose of nostalgia. It isn't the longest game, but it's fun from beginning to end. The highest praise I can give A Link Between Worlds is that it's a worthy sequel to The Legend of Zelda: A Link to the Past. Zelda fans should absolutely add this game to their libraries, and newcomers to the franchise should find it to be a fun and accessible title.
One of the best Zelda games of all time and one which manages to quietly rewrite the series' usual formula in some surprising, and surprisingly successful, ways.
Nintendo Enthusiast
9 / 10.0
A Link Between Worlds is close to perfection. It hearkens back to the old days of Zelda, encouraging players to explore Hyrule to their heart's content. It has a charming art style and some of the best dungeon designs in the series to date. And yet, it only succeeds; It never soars. Link's latest adventure makes nearly every right choice from a mechanical front, but it never goes beyond that. The result is a product that could have been the next Ocarina of Time, but settles for Twilight Princess.
The Legend of Zelda: A Link Between Worlds is easily the best handheld Zelda title since the days of the Game Boy Color, as well as being the strongest and most focused entry in the legendary series for easily the last ten years. It's entirely feasible that in the future the game will be mentioned alongside the likes of A Link to the Past and Ocarina of Time as part of the series' greatest hits. The game feels fresh whilst still remaining true to the series' roots, filled with nostalgic throwbacks and making you genuinely excited for what direction the series will head in next. Going back to the drawing board, Eiji Aonuma and his team have crafted a truly amazing game that reminds you why you were a Zelda fan in the first place.
Zelda: A Link Between Worlds brings the outstanding gameplay of the SNES prequel to the 3DS in a well-crafted adventure that will give you a rush of nostalgia. With interesting new characters, atypical series gameplay elements, and fantastic 3D visuals, Link's next adventure is a must play.
No touch or motion controls that don't always do what is asked of them; no microphone gimmicks to blow hundreds of times into incredibly infuriating wind instruments; no involuntary hand-holding that removes the need to explore and continuously breaks up the flow of the game—A Link Between Worlds is the very definition of what classic top-down Legend of Zelda games should always be about. It is clear that 2D Zelda thrives and is at its ultimate best when it sticks to its roots, and A Link Between Worlds does exactly that, and more. This is the return to form that long-time fans have been wishing for in the classic 2D format for the Zelda franchise for many years; it is the greatest entry in a very long time.
A Link Between Worlds is a delightful return to the classic game we loved. There aren't a lot of improvements, but the additional world and new power are more than enough. While the story might not have a great premise, the ending is satisfying and something fans will really enjoy. Needless to say, this is a Zelda game that fans and newcomers alike can enjoy and makes the perfect title to pick up and play or conquer while on vacation.
The Legend of Zelda: A Link Between Worlds is a very enjoyable game. It's a treat to play.
Even the most stalwart, traditionalist series fan should be able to appreciate A Link Between Worlds for what it is: the most interesting new Zelda game since Wind Waker.
A Link Between Worlds boasts excellent characterisation and spacial design. Even a too-shallow difficulty curve can't hold this long awaited entry back.
Though A Link Between Worlds may not become an enduring classic through the decades like A Link to the Past, it stands as a worthwhile successor and a modern masterpiece in its own right.
A Link Between Worlds gets fearless and distinguishes itself from the franchise's history. On top of that, Link, Zelda, Rovio, and some of the best bosses Zelda fans will ever fight turn that history on its head, both narratively and mechanically. This is another must-play 3DS game and a compelling adventure for anyone traveling this holiday season or curling up with a good game at home.
A Link Between Worlds blends nostalgic familiarity with newfangled fantasy, introducing innovation with sacrificng any of what made its forebear great. It's an incredible adventure for fans old and new.
Cheat Code Central
4.4 / 5.0
A Link Between Worlds captures plenty of that old Zelda magic with its excellent dungeon design and gameplay-first formula. Series fans will not be disappointed, although it may not deviate from formula quite enough for some. In my estimation, the developers stuck to the right parts of series formula while innovating in important areas, such as non-linearity and user-friendly interface decisions. This is yet another entry in a string of great 3DS games this year, making that device one of the best gaming investments out there.
Paste Magazine
8.8 / 10.0
A Link Between Worlds addresses that history head-on, but somehow creates an identity that's more fulfilling and surprising than any Zelda since Wind Waker. It might have the same map as A Link to the Past, the same overhead perspective, and the same weapons and archetypes that appear in every Zelda. It's not the same as any Zelda you've played before, though, because even this reliably good series is rarely as elegantly designed as A Link Between Worlds.
A Link Between Worlds takes some much-needed strides to shake things up. But it does so within a pair of worlds most fans know maybe a little too well, and you know what they say about familiarity. This is a good first step in Nintendo's journey to revitalize Zelda, but the next leg of the trip needs to be considerably bolder.
A Link Between Worlds does do just enough to stand on its own merits.
It looks great in 3D but there's no getting around the fact that the new Zelda adventure is very much like all of the others
Changes to traditional structure make this the most interesting Zelda game in years.
Surprisingly, despite all its whimsy, 'A Link Between World's' final evaluation becomes mostly academic. There are ones and zeroes to consider here, and my emotions on the subject should really take a back seat. This is the most personalized game in the franchise to date, and yet the story is among the most sterile. The dungeons are phenomenal, but the overworld is drab, if intelligently designed and easy to, within it, lose yourself in exploration.
A Link Between Worlds is familiar but fabulous, offering the leanest version yet of Nintendo's long-standing adventure. Tom Hoggins returns to Hyrule
The Legend of Zelda: A Link Between Worlds is a sentimental game that skates off its predecessor's successes, but is so good at doing so one hardly minds. A few neat new tricks and a beautiful visual style help make up for the game's more frustrating hurdles.
In fact, the only real legacy it leaves behind beyond being a serviceable Zelda game is its welcome streamlining, which I hope is carried over to future iterations. It's a great way to return to the world of Link to the Past, but outside of some welcome streamlining, it doesn't surpass it, or even meet it.
Same old, Same old. Bring back Moosh and implement some new ideas. Zelda is a wearing franchise.
A Link Between Worlds is a remake and a sequel, then – both a tribute to a classic and a worthy successor in its own right. For all the changes, it's still recognisably Zelda, and a legend this powerful can comfortably bear another retelling.