Battlefield 1 does an amazing job of transplanting the fantastic chemistry of the series' traditional multiplayer action into the weaponry and vehicles of World War I. The era brings with it not only a visually striking backdrop for classic game modes like Conquest and the compelling new Operations, but a distinct personality that touches everything from its rich lineup of archaic and distinctively designed weapons to the somber anthology of character-driven stories in its brief but surprisingly poignant single-player scenarios. While maps are not its strong point, Battlefield 1's dynamically destructible environments and the minutely balanced mechanics of its classes and gadgets keep the moment-to-moment first-person shooting varied and engaging.
By returning to the past, Battlefield 1 feels renewed. The best game in the series since Bad Company 2.
Battlefield remixes the formula for its move to WWI, resulting in a patchy but playable campaign and outstanding multiplayer.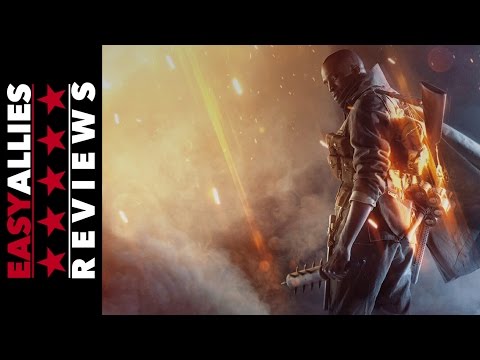 Battlefield's tried and tested multiplayer feels wonderfully at home in the WW1 setting, and the solo campaign tells interesting - if historically lightweight - stories.
The First Word War setting feels a little less daring than you might've hoped, but as a complete first person shooter package this is one of the best of the generation so far.
The World War I setting is a refreshing change of pace to the space shooters currently dominating the landscape
EA's shooter franchise goes back in time to the end of the imperial age with spectacular results in both its single and multiplayer experiences.
Battlefield 1 succeeds far beyond expectations
A compellingly honest look at World War 1.
I went in to Battlefield 1 with admittedly low expectations. I was excited about the setting, but I had my doubts that DICE could execute on it given their recent track record. Thankfully, DICE not only does justice to World War I, but refocuses the series as well. Battlefield 1 does a great job of getting back to basics, and it's aided by some fantastic map design. Overall, this is the most fun that I've had with the series since Battlefield Bad Company 2, making it one of 2016's best shooters.
I didn't see myself playing through (and enjoying) Battlefield 1's campaign even just weeks prior to this assessment, but here we are. It somehow manages to be a good amalgam of the staple formula DICE has relied on for years, with a bit of anime (flashes of Metal Gear Solid V and flowing shonen capes) sprinkled in for good measure. I'm really not looking forward to spending $50 on the DLC to get more maps, but for now, I'll be coasting along in Operations for the next few months.
Battlefield 1 isn't just a great addition to the series, it arrives as a thunderous explosion that will impact the military shooter space for many years to come. A memorable single player campaign in an FPS is a rarity, and it delivers that without compromise. Operations is an instant classic for multiplayer lovers, while the other modes will keep you invested, supported by fantastic gameplay. Visually breathtaking and fun to play, DICE has delivered an instant classic that has raised the bar.
Battlefield 1 has become one of the greatest shooters based on the World War, featuring a very complete story mode, a well polished multiplayer and a soundtrack that will be remembered in the future. One of the must-buy in this videogame genre.
Review in Spanish | Read full review
Operations mode is the standout addition to the multiplayer, bringing together the behemoths, the destruction, the hellish screams of people charging into the fight. I do wish that the single player had been able to push on and draw more from that excellent opening, but stepping back to the First World War helps to give Battlefield 1 a refreshing and invigorating veneer to the game, and it's lost none of the series' explosive gameplay in the process.
No one makes more beautiful shooters than DICE, but their gameplay still leaves something to be desired, despite what appeared to be a total refresh with the WWI setting. Fans of the series may look past these faults or even embrace them, but some of them are hard to get past, and can define the entire experience.
Battlefield 1 might not be the best Battlefield game, or the best FPS game I've ever played, but it succeeds at doing what it needs to do. It feels like Battlefield, it works like Battlefield, and it has plenty of opportunities for amazing things to happen that have only ever happened in a Battlefield game. It's nice to see DICE returning to the roots of what makes this series so amazing, and I'm happy that, for the first time in years, a new Battlefield game doesn't feel like it is in the middle of an identity crisis.
EA and DICE have managed to present a new installment in an annual series that stands out from its predecessors in every possible way. The story is more human, the visuals are breathtaking, the multiplayer modes are varies, and the maps are terrific. Battlefield 1 presents the tragic events of World War I beautifully in a way that respects the realness of the tragedy, which is what makes it special.
Review in Arabic | Read full review
If the Campaign is a little disappointing, the online multiplayer, the maps and the graphics are absolutely great.
Review in Italian | Read full review
Battlefield 1 offers a welcome evolution of the Battlefield formula that we all love, while adding an outstanding single player campaign that it's worthy of our time.
Review in Spanish | Read full review