A great PC port and lovely open world don't give depth to Watch Dogs 2's shallow combat and stealth design.
Watch Dogs 2's distinctive hacking and puzzle mechanics do a great job of reminding you that you're not playing just another Grand Theft Auto clone as you tear through it's beautiful Bay Area map. Marcus is a bit too friendly of a guy to be believable as our instrument of mayhem, but the flexible missions let you get through mostly non-violently if you're good enough at stealth. And when it works, multiplayer is good unconventional cat-and-mouse fun, too.
Ubisoft's sequel borrows from Rockstar's oeuvre to make a richly enjoyable open world game, despite its online troubles.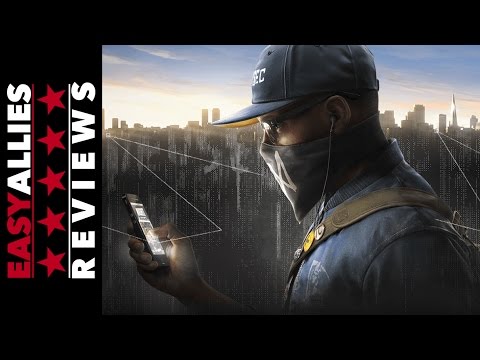 Watch Dogs 2 builds upon the strengths of the original game, whilst polishing up aspects that lacked depth to deliver a coherent, comprehensive experience. Its diverse cast and (mostly) thought-provoking narrative trump the occasionally repetitive, maddening gunplay, and though the urban youth humour occasionally falls flat, for the most part its characters feel, talk, and react convincingly.
It's still lacking a certain je ne sais quoi, but this is a definite improvement on the first game and a serious alternative to GTA V.
The open world is filled with oddball pedestrians to spy on, and both main and side missions offer plenty of enjoyment with variety that the previous game lacked
Watch Dogs 2 offers loads of entertainment in a playground-like rendition of San Francisco that rises above the first game's soggy, downtrodden atmosphere.
Watch Dogs 2 improves on its predecessor but doesn't go as far as it could have
A significant improvement over its predecessor, filled with challenges that tested my problem-solving skills. It compensates for its technical shortcomings with a raft of interesting new ideas and a near-endless supply of things to do.
Packing a vibrant, immersive open world, likeable cast of characters, and an engaging plot, Watch Dogs 2 is a good-looking, entertaining hacking romp that's not afraid to make a statement on today's technology-obsessed society. Its missions can be tackled in a variety of ways: Combat is always an option, but the game really comes into its own when you're using your suite of technology-disrupting tools to creatively outwit the enemy. It's involving, rewarding, and a lot of fun.
Watch Dogs 2 improves on every aspect from the original game, San Francisco is a world I want to spend time in and Marcus is a protagonist I actually enjoyed. It's charming and imaginative all while not taking itself too seriously. If you're looking for a sandbox adventure to fill some of the time until Red Dead Redemption 2, then Watch Dogs 2 might fill that craving.
Oh, and Windows 10 decided to update when I finished this review the first time, deleting everything I did and making it so I had to rewrite this two hours before embargo. DedSec, is that you? 8.5 is a great score, please never touch my computer again.
Watch Dogs 2 has meant a great quality improvement compared to its weak predecessor. It features very polished graphics and a great story mode with personality and style.
Review in Spanish | Read full review
Watch Dogs 2 is the perfect sequel. It takes everything that made the first game unique and original, and expands on all of it. Everything is better, from the hacking, to the story, the setting and the variety of content. Watch Dogs 2 is far from being just more of the same. An apt comparison could be the jump from the first Assassins Creed game to Assassins Creed 2. While the first was a promising yet clunky new idea, the sequel delivered on that idea and turned it into one of the most iconic series of the last decade. With Watch Dogs 2, Ubisoft is well on its way to recreating that same magic.
This is the game the original Watch Dogs should have been in many ways, and while it may still have more to learn, it's hard to say that Watch Dogs 2 is anything but a success, and proof that Ubisoft can learn from their mistakes.
Watch Dogs 2 is a rare sequel where the developers took a chance instead of sticking by what was a successful formula. Although I personally wasn't a fan of the original Watch Dogs, the game sold well and Ubisoft could have easily slapped some new paint on it and released another dreary, boring game. They didn't though, and I hope it's a trend other developers pick up on because Watch Dogs 2 is a superior product.
Watch Dogs 2 was designed for those who love an open world rich with possibility and those who love an experience drenched in fun and comedy, rather than those who love shooting or using weapons or following a linear story. The game succeeded in giving same to a vibrant San Francisco and the big tech wave that's sweeping this generation which allows you to control the environment around you and makes you the king of the city. It's a refreshing game that's as dense as you need it to be but can give you a break if you get tired of heavy plots.
Review in Arabic | Read full review
Watch Dogs 2 is a funny to play and very good looking game. It's not perfect, though, expecially when it comes to driving sessions. Overall, we have a very nice new entry in the free roaming genre.
Review in Italian | Read full review
Watch Dogs 2 is better than the its first installment, but it's far from being perfect. We love San Francisco & Marcus, but the game's narrative is not great, the driving is not good and we have been waiting for the multiplayer experience for almost two weeks after its initial release.
Review in Spanish | Read full review