Percentile Rank
INSIDE is ranked in the 99th percentile of games scored on OpenCritic.
Rating Summary
Based on 145 critic reviews
OpenCritic Rating
Based on 145 critic reviews
Score Distribution
Unscored Reviews
The Vertical Slice
A or higher
If you own an Xbox One, this is definitely a game you need to play within its life cycle. There are no questions about that, and don't argue. Preferably sooner rather than later, unless you don't care if you have it spoiled (don't let it be spoiled, trust me). Whatever your tastes in games are, this should be on your list of games you need to beat before you die.
Playdead's follow-up to Limbo is a superior game in every way.
INSIDE is a game that requires a player who doesn't learn as they go along. It is a well-made game from a talented young studio, but save for the final moments has little to wow the player after the first half.
However, for those in a situation like myself who missed its initial launch and are playing indie catch-up, Inside is the type of short but gratifying experience that the Switch is perfect for delivering.
Rock, Paper, Shotgun
Unscored
Clearly others are adoring this, so read around. I certainly will be now to try to work out what on Earth was going on last week. But I completely didn't get this. It has a few decent puzzles, all of them boringly repeated. It looks lovely, when it remembers to, but mostly doesn't.
Birth. Movies. Death.
Unscored
At four or so hours, it's an incredibly concentrated burst of imagination that outdoes its predecessor in just about every way.
When it's not sending you into cardiac arrest, it's bending your mind with plot twists and challenging your reflexes and brain power with a series of platforming and puzzling challenges. In the end, lightning strikes twice for Playdead. Six years was worth the wait.
The game is a procession of stately, grim exclamation marks. It is visionary art.
With Inside, Limbo's creators deliver a disturbing triumph of restraint
Scored Reviews
Playdead's Inside is one of those rare games that has to be experienced first hand in order to understand its importance. Rest assured, you'd be hard pressed to find another game that's equally brilliant and beautiful.
Playdead's followup to Limbo expands on and improves all of that game's ideas so thoroughly, there's no question why it took six years to get here.
Inside delights from start to finish. Don't miss out on what will surely be one of the best games of this generation.
The Jimquisition
10 / 10.0
It should go without saying that Inside is an easy choice for anybody who enjoyed Limbo. At its most basic, Playdead's newest presentation is a continuation of its prior work – a macabre puzzle-platformer with a gloomy visual style and forsaking atmosphere. Beyond that, however, Inside is so much more…
While it results in brevity, there isn't an ounce of fat here. Inside is a game to be devoured in one or two sittings, then, but its impact will be something to savour.
Inside is absolutely astonishing – a prime candidate for game of the year. Avoid spoilers and play it ASAP.
Playdead could have simply made yet another 'Limbo' and it would've been great. Instead, they kept the core gameplay and went into a bold yet familiar direction with it. 'Inside' hasn't left my thoughts since I completed it, and I doubt it will any time soon. It's a fantastic game that proves what the medium can do when used correctly, and provides an experience that can't be replicated by film or literature.
Six years after the deliciously dark Limbo, developer Playdead returns to Xbox and PC with another meticulously muted platformer about a boy on the run
Whilst it may not be perfect, let's be honest, nothing ever is. Inside does have a few issues here and there with the story, but I don't care, the whole experience is an absolute gaming pleasure. Whilst it may not be a game that appeals to everyone and have a rather niche target market, those who love this genre will indeed, love this game.
We went deep into the despair and desolation of Playdead's Inside and found it to be one of the finest examples of emergent narrative there are.
Inside for PC and Xbox One is one of only a few games that can be described as perfect, and a genuinely compelling example of a video game as art.
INSIDE is an odyssey I recommend everyone, gamer or not, to undertake. When it's all said and done, the game did feel a bit short, but every second is worth it. I haven't felt so strongly towards an indie game story since Brothers: A Tale of Two Sons, and that's saying a lot. After experiencing a monotonous world of where specs of dust in pale moonlight beauty in comparison to flakes of flesh wafting in the sunlight, the credits made me sit in the sun, reflect on myself and the progress of our world. It's hard to discover any true answers in our world, much like the mysteries still left unsolved in INSIDE's world of scientific genocide, but it's easy to understand the massive effort it took Playdead to splice together this masterpiece.
Playdead have taken everything that Limbo offered, and expanded it exponentially with Inside. Crafting a sublime 2D platformer with another unique art style, they take so many unexpected turns with the game that they may as well ship it with a sat nav. A game that starts you off as a boy in the wood will immediately draw comparisons to their 2010 debut, but the connective threads between Limbo and Inside are slowly pulled apart as the latter goes on and begins its descent into something all the more disturbing. A fantastic example of polishing a game until it's done, Inside may only be around 4 hours long but it's been well worth the 6 year wait.
Pixels Game Reviews
10 / 10
After playing Limbo and how good that was I never thought INSIDE would top it, boy was I wrong and this might one of my favorite games this year.
As far as puzzle platformers go, Inside is the new benchmark. This is a game that manages to spin a compelling yarn without uttering a single word, and one that is designed so meticulously that the puzzles it contains never once become rote or frustrating. It's beautiful to look at, and the minimalist sound design complements the almost greyscale aesthetic perfectly. But beyond the technical proficiency on display, the true genius of Inside is in the feeling that it left us with once it was all over. This is a game that will probably stay in your thoughts for days once you've finished it.
Please, do yourself a favor and buy Inside right now before you get spoiled. From the beginning Inside is an unforgettable experience that every gamer has to play. What makes it even more unforgettable are the last gameplay moments, I'm still shocked about it. Developer Playdead has done impossible work, I'm still baffled that only 25 people can make a game like Inside, it's simply mind-blowingly good.
Inside is a masterclass in minimalist design. Enthralling and enjoyable.
Inside encapsulates everything right within the independent game genre, exuding a masterclass in game design with stellar animation and a muted colour palette that fit its macabre interior perfectly. Though some may be put off by its obtuseness, Inside is a unique title all gamers should eventually at least attempt to experience.
"Inside is a hauntingly oppressive 2D platforming masterpiece with a gorgeous artistic approach, incorporating moments of stealth, frantic chases with creative but not overly complex puzzles".
Even if players only progress as far as 'I don't get it', playing Inside—and stepping outside of that comfort zone—will leave you changed, even if only a little, on the inside.
Inside is a 2D puzzle platformer that builds upon what made Limbo great, and in fact builds something greater.
In 2016, Playdead has delivered a masterpiece of a game to the world. Most accomplished and thrilling than Limbo, Inside can now be enjoyed everywhere on the Nintendo Switch. Basically, it's the same game, which is certainly not a fault. We're now anticipating what will come next from the brilliant minds of the danish studio.
Review in French | Read full review
Playdead's Inside is a masterpiece from beginning to end, and its Switch port is as good as you could hope for. It's another must-play title on Nintendo's hybrid, and is unlike anything I've ever played before.
So few games come close to perfect but Inside is a true gaming treat for XBox One, especially if you like dark puzzles!
Inside is a game that has to be experienced first-hand to be understood and I'd urge everyone to play it. At three to four hours it is on the short side, but thanks to the thought provoking and surprising story, tight gameplay and exceptional sound and visual design, Inside will leave a long lasting impression that will more than make it worth its price tag.
INSIDE pulls you in and makes you forget everything that was going on in your real life. A new benchmark for puzzle-platformers, a must-have for every gamer and easily one of the best games ever.
Review in Persian | Read full review
Playdead's Inside is an exceptional game that Xbox One and PC owners shouldn't miss out on. You truly have to experience the game to appreciate what it has to offer.
A mature, dark and deeply immersive adventure dripping with atmosphere. Inside is a classic full of surprises and memorable moments.
Inside is, in many ways, a spiritual successor to Limbo. It reiterates on the formula and design established by Limbo and polishes it to perfection. The game is full of thought provoking puzzles and a narrative structure that requires you to think, while also highlighting the negative side of the human society.
Limbo, when I reviewed it all those years ago, was one of the few games that compelled me to reward it a perfect score. Inside isn't just a marked improvement on Playdead's formula, it smashes through the benchmark Limbo set tenfold, leaving me to ponder how a team so small can produce an experience so damn grand.
Combine a highly compelling visual narrative with superb puzzles and brilliant platforming, and you have Inside, one of the most intriguing, addictive, and beautiful-looking games of this generation. Its only downside is that it's quite short, but while it lasts, it's absolutely glorious.
Inside is the closest I have ever felt to experiencing a simulated nightmare. It's the perfect showcase of the kind of emotion an interactive experience can inspire
Inside is a tour de force of emotion and enjoyment, flawlessly serving up a game that will seduce you into its dark, malevolent world. Games of this caliber are rare indeed.
Inside is a technical marvel, and a game seemingly pieced together from the shared dreams of Franz Kafka and George Orwell. It's a rare game that transcends a genre, and for a game where not a single word is spoken, Inside has plenty on its mind.
This is a game that will still be talked about five years from now—even 10 years from now. Inside was pretty much three hours of me shaking my head, clutching my chest, and realizing every few minutes that my mouth was hanging wide open. It's an analog science-fiction thriller, and so good that it's impossible to improve upon. It'll get right inside you.
NintendoWorldReport
9.5 / 10.0
There are secrets to be found throughout the journey in order to unlock an alternate ending, so don't be afraid to fight the constant urge to move right toward the end. Sometimes, it's wise to try going left. Every so often you come across a game worthy of adding to the endless argument, "Are video games art?" INSIDE is one such game.
Inside is a brilliantly crafted game that will keep you talking about it long after you've finished playing. Its moody, atmospheric world and terrific puzzle-platforming are simply the hooks to first draw you in.
Inside is a game that simply has to be experienced. Its mystery filled dystopian world is brought to life expertly through tight, thoughtful design, masterful art direction and sublime sound design. Inside isn't like many other games, because not many others can do so perfectly what it does regularly.
An easy Game of the Year contender, Inside is an example of game design executed near perfectly.
Holy crap, I was expecting a great game, but I certainly wasn't expecting something this amazing. Inside is an incredibly and thought provoking experience from start to finish and a game that I won't soon forget.
Reno Gazette-Journal
4.75 / 5.0
There's no sophomore slump here. Playdead delivers an excellent followup to Limbo with INSIDE, a puzzle platformer that turns up its predecessor's concepts to 11 thanks to well-designed mechanics and a compelling setting that elegantly drifts between light and shadow. Add an engaging "show, don't tell" story that is seamlessly integrated into the gameplay and you've got one of the best titles of the year.
PlayStation Universe
9.5 / 10.0
Inside is as beautiful as it is bleak. A truly fantastic experience that deserves its place among the very best games of the generation.
The parallel to Limbo feels necessary when talking to people who haven't yet played Inside; after finishing it, it feels wholly unnecessary. Inside stands on its own merits as a superbly captivating and moving experience, one that's bound to be on your mind in the time you spend away from it. Someone once told me that the games you can't stop thinking about when you're not playing them are the truly great ones. I'm inclined to agree. Inside fits that mold even though we've seen others of its ilk before.
بی شک "اینساید" یکی از بهترین بازی های عرضه شده در نسل هشتم است. تک تک مراحل بازی و چینش مراحل معنا خاصی را دنبال می کند و اوج هنر سازندگان در این است که داستان بازی کاملا از طریق محیط و اتمسفر منتقل شده و تمامی معماها و چالش های محیطی نیز بخشی از بدنه داستان و فلسفه بازی محسوب می شوند. برای دارندگان PC و Xbox One تجربه اینساید می تواند مهمترین گزینه ممکن در فصل تابستان باشد.
Review in Persian | Read full review
The Loot Gaming
9.5 / 10.0
There are very few games that will provoke as much thought after you walk away from the adventure. I genuinely found myself asking "What did I just experience?" as the credits rolled. Graphically the game is gorgeous and the controls snappy and intuitive. Inside is a triumph of both storytelling and game design, what it sets out to achieve as a video game it most certainly achieves. My only criticism would be that after completing the game there is no real reason to go back (unless you didn't get all the Achievements/Trophies) and this is only a negative because I enjoyed the game so much.
Real Game Media
9.5 / 10.0
Inside is a remarkable second effort from Playdead, surprisingly outshining their first outing, and a must play.
Inside is a perfect videogame. Is impeccable in terms of narration, gameplay, game desing and style. Is a thrilling and painful adventure, an unforgettable experience you cannot miss.
Review in Italian | Read full review
Gaming Masters
9.4 / 10.0
It's a game that's not only very enjoyable to play, but one with enough mystery to it that it keeps you thinking inside the moment and out.
Geeks Under Grace
9.3 / 10.0
Inside is the 2016 indie GOTY front-runner, with the simplicity of its inviting controls, satisfying game flow, and enthralling yet ambiguous story that will have fans theorycrafting like they once did with Limbo.
INSIDE is an absolutely incredible achievement in art, design and storytelling and comes highly recommended for any Switch ower's library
Digital Chumps
9.2 / 10.0
Inside's quiet confidence is a maneuver invented to not only disarm the player, but also destabilize assumptions that seem inseparable from an entire class of games. Plenty of games have pulled the curtain away to thunderous applause. Only Inside has room for shock, panic, and the inconceivable notion that the nightmare isn't yet over.
Playdead's Inside is a strange, freaky and compelling game. With stunning visuals and a graceful control scheme, it's a perfect, small, indie game.
Review in Italian | Read full review
Inside isn't just some incremental improvement over the basic premise of Limbo, it's one of the best puzzle-platformers ever made.
Inside's nightmarish journey is fascinating and frightening in equal measure. This puzzle platformer is easily consumed, but digesting its disturbing world will be a contemplative challenge.
Inside is a worthy successor to Limbo, that improves upon it in many ways. It's visually richer, less obtrusive with its puzzling elements and tells its evocative, grim fairy tale with a greater panache.
Inside is an incredible sophomore swing from Playdead, as the atmosphere, aesthetic and gameplay meld into one glorious experience that demands attention. Don't read about it, don't seek more, don't ask questions — just clear your afternoon schedule and experience it.
Post Arcade (National Post)
9 / 10.0
Playdead's brilliant and evocative sophomore effort is solid proof that 2010's Limbo was no fluke
Inside builds on every strength of Playdead's Limbo, while also delivering a compelling yet haunting world filled with smart puzzles and inventive mechanics.
As phenomenal of an experience as Limbo was, Playdead somehow managed to top it with Inside. It's a hauntingly beautiful game, especially for how violent and dark it turns by the end.
Definitely worth a few of your shekels for at least one play-through.
Inside is an incredible game, a compelling artistic achievement that deserves your time no matter what genre of game you normally prefer.
Inside's fraught four hours of oppressive pursuit, smart environmental manipulation, and unsettling imagery exhibit a consistency and obsessive attention to detail that few other games can boast.
That Inside manages to start really well, and then keep building up to an ending which is absolutely bizarre but simultaneously wonderful is a real testament to the skill at work from the team at Playdead. Inside is a pure consistent work that manages to play to its own strengths in very smart ways.
Like Playdead's Limbo, Inside is one of the few video games that reaches the level of allegory.
Unsettling, atmospheric, and gorgeous, 'Inside' is the indie sleeper you need to know
It's remarkable how effective a game Playdead have created from a few static backgrounds and a bunch of playforms and ladders. I suppose it goes to show that games as art are as good as the emotional investment of the designers. Good for you, Playdead. I'll be interested to see where you go next.
Gamerheadquarters
9 / 10.0
Inside is a game that people will be discussing and talking about what exactly happened for many years.
Dark, sombre and thoughtful, Inside is a brief experience that's satisfying in the questions it creates.
PlayStation LifeStyle
9 / 10.0
Don't expect Inside to deviate much from start to finish, but you'll find that it doesn't need to. If you liked Limbo (or even if you didn't, maybe?), or found yourself piqued just a little by what you've seen of Inside, then go snatch it up. It's a rabbit hole that you'll find comfort in diving into.
Inside won't be for everyone, and likely will never carry the prestige that Limbo garnered years ago. However, it is a game made for those able to appreciate the nuance and artistry behind game design and building atmosphere. Though short, Inside is an amazing one-sitting gameplay experience for enthusiasts and indie-lovers that frankly should not be missed, no matter where you play it.
Inside shows that Playdead has a knack for the short but powerful puzzle-platformer. The puzzles are logical and challenging, while the story is told well without a reliance on the usual things like dialogue and cut scenes. The balance between both creates a game that has a ton of memorable moments, and the flow is smooth enough that you're compelled to keep playing until you reach the thought-provoking ending. With a presentation that adds greatly to the narrative, Inside is well worth your time.
Non-Fiction Gaming
4.5 / 5.0
Inside is the kind of game that hooks you within the first minutes with a 'Show Don't Tell' style of storytelling.
Puzzles vary from simple to gob-smackingly brilliant with equal frequency and often simultaneously
Inside manages to present an entire world, to evoke an entire universe, even without the use of any word, simply by concretizing the space around the protagonist.
Review in Italian | Read full review
No missteps, no mistakes. Any way you look at it, Inside knows what it wants to be, while succeeding on nearly every level.
Inside is great. It does everything a good puzzle game should do. It is top shelf material and really should be played by anyone who calls themselves gamers. You can beat it in 4 hours, and feel like you accomplished something amazing. It can get incredibly weird at times, and actually intense and frightening.
Generación Xbox
4.5 / 5.0
Playdead comes to demonstrate something very important that is often forgotten in videogames: Little things can do very extraordinary things. INSIDE is an atmospheric journey of feelings and that proposes to let us embrace by the emotions that we will live next to a child.
Review in Spanish | Read full review
The first thing that strikes you about 2D puzzle platformer INSIDE is its visuals. The eerie dystopian environment and muted colour pallet is unsettling, and immediately haunting. Utilising minimalist white, grey and black tones, INSIDE somehow manages to be both melancholic and powerfully alluring – it's impossible to look away.
Do yourself the favor and buy Inside and play it for yourself. As far as indy titles goes it's a masterpiece. It's on the same plateau as Journey for me in that regard. Both games are absolutely phenomenal and both will stick in your head. The only difference is at the end of Journey you'll feel pretty good about the adventure you took and have a good idea about what it all meant. You don't get that with Inside. Instead I have been scratching my head ever since and to this day I still can't piece it all together. All I know is it is one of the most memorable games I've played in the last few years.
It doesn't matter when or where you play INSIDE: it will always be a masterpiece. Switch's portability makes this version one to be taken into account if you've never played it before. And if you love Playdead's game, the ability to play it wherever you want is tempting, to say the least.
Review in Spanish | Read full review
Inside is a grimly beautiful platform-puzzler that, while brief, is packed full of jaw-dropping highlights. While its dark tone won't be for everyone, it's all been executed brilliantly, with gently taxing physics-based conundrums woven into a haunting wordless narrative.
Nintendo Enthusiast
9 / 10.0
Inside is a side-scroller with creative puzzles punctuated by a thrillingly tangible sense of tension.
With a rich atmosphere, solid puzzles, good platforming, and a story that unravels in your mind as you play Inside is one of indie gaming's best titles. It's short and sweet, and it should be experienced by everyone who loves atmospheric and dystopian narratives.
Inside is another amazing game from Playdead and I'll be picking up everything they have to offer in the future.
Inside does not lose any of its peculiar features in this version, showing the best of the gameplay both on portable console and through the porting on TV. This amazing indie game shows its incredible dystopic narration, which has not lost its brilliance and emotions after two years of its first release.
Review in Italian | Read full review
INSIDE creators excellently adapted the game for a Nintendo Switch system, and final result is not inferior to the original version in portable or docked modes. If you have not yet played this masterpiece on the other systems, then make sure you catch up on any platform. But even if you've finished the game, it's worth it to try it again.
Review in Russian | Read full review
If you loved Limbo then do not hesitate, just grab your Switch and buy Inside. For such a simple game, it is remarkable how much variation there is. Puzzles are expertly thought-out, the atmosphere is top-notch and its crammed full of memorable moments. It's a stunning but desolate adventure that I urge you to try out. Even though it's a short experience, it makes you consider what you have just gone through long after completion. It is one of the standout games in the Switch's ever-growing library.
Inside is not for those looking for hours of fun, opting instead to channel the 'games as art' mentality that has been debated into the dirt. It's a game that people will be trying to figure out the meaning to for months to come. Should the limited content and depressing setting not put you off, this is one piece of avant-garde gaming that's definitely worth experiencing for yourself.
Like Limbo, Inside is short, mechanically addictive and emotionally haunting. It's the perfect addition to the Switch's growing library of now-portable indie hits.
Inside is an excellent puzzle game that will certainly please fans of the genre. Everything works like a Swiss watch and it'd be a pity to let this interesting experience slide. If you want to add another high quality game to your library, don't hesitate. Inside is a good purchase that will give you many great moments.
Review in Czech | Read full review
Although not the breakthrough that was Limboback in 2010, Inside is nonetheless a beautifully-crafted refinement of that experience. The art direction is just as haunting, but in a way that's entirely its own. The amazing musical score can be transporting while at the same time oppressive. And the big finale is open to interpretation in the best way possible. I can't wait to discuss every aspect of this experience with others. I'm still thinking about being inside one of the year's most memorable games.
"Visually stunning, forces you to think about things outside the game."
Review in Finnish | Read full review
Inside is intriguing, terrifying, haunting, puzzling and quite simply, magnificent.
Playdead's greatest feat in creating Inside was making it look like they never created it in the first place.
INSIDE is still a deeply thought-provoking experience with a mystery that begs to be explored and is faithfully ported to the Switch.
New Game Network
88 / 100
Inside is dark, deep and deliciously bleak. Its ominous world speaks continually - even if it's never entirely clear what is being said. Its puzzles aren't mindbending, but they're duly affecting - extending the mechanical and thematic nuance nudged at by Limbo.
Enormously atmospheric puzzle adventure with great graphic style, which captivates to the end - even on the Nintendo Switch.
Review in German | Read full review
It's a refreshing take on storytelling because in this case the story truly isn't the point, the journey is.
If you even remotely enjoyed Limbo, you'll feel right at home with Inside.
While it doesn't stray far from the template Limbo set, Inside is a gorgeous, beautifully directed puzzle platformer that you'll want to see through to the end.
Inside is a really interesting, beautiful, gloomy, atmospheric game. It certainly gets our recommendation, as one of the rare high-quality logical platforms that you will surely enjoy in almost every aspect.
Playdead's Inside may have been the follow-up to Limbo six years in the making, but the wait was certainly worth it.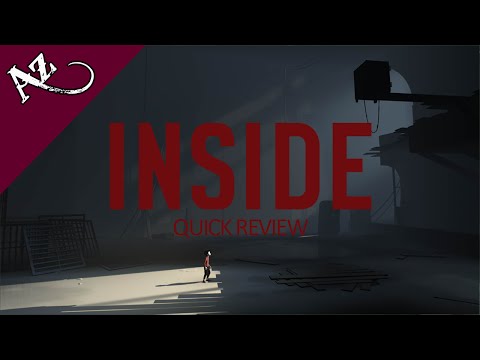 Play Some Video Games
83 / 100
A fantastic indie-exclusive that all fans of the developer, Limbo, and Xbox will enjoy. Inside is a short but compact fun-filled experience that never wastes your time. You will either love or loathe Insides ending, but the journey offers great value for a $20 dollar bill and provides an experience that will still be debatable among friends for the rest of 2016.
Inside is very much a near-perfect follow up to 2010's excellent Limbo. The game has the same dark, malevolent feel, and it expands on its predecessor's puzzle platforming in new and interesting ways. It does have a few of the same faults, such as a short runtime, and the overall experience isn't quite as blissfully satisfying, but Inside is a great game from start to finish.
A worthy follow-up to Limbo, that challenges in terms of both its fiendish puzzles and its harrowing storytelling.
Fun, easy, creepy, scary, bizarre, and oozing with atmosphere, but doesn't quite stick the landing.
Instilled with a pervading sense of disquiet and a knack for the disturbing, Inside is a memorable, beautifully realized puzzle-platformer. The game's middle drags as it leans too heavily on puzzles, and the game's short length and ending will no doubt put some off, but some strong puzzle and world design and an engrossing, murky narrative makes Playdead's latest is an adventure worth taking.
If you're looking for something different, PLAYDEAD's 8-10 hour offering, is definitely worth the price of admission.
Calling INSIDE merely a "worthy successor" would be doing it a disservice. It's not just great relative to its sibling; it's great, period. Its cinematic, artistic, and structural techniques have set a new standard for 2D platformers to be measured against. It's possible that in the future, someone will piece together its occasionally disparate story elements into a more meaningful whole, which would likely make it one of the best games of all time. For now, it is "only" one of the best games of the year, an arresting journey, and a solid puzzler.
Inside has a foreboding atmosphere that's second to none, set by the masterful use of lighting, shadows, colors and sound. Although padded at parts (even for a four hour game), it's still able to keep you gripped. The puzzles are somewhat basic for the most part and the ending of the game is one of the worst I've ever encountered, simply not fitting in with the rest of it.
INSIDE is a fantastic experience. The puzzles are a bit rudimentary at times and the story is almost too outlandish and confusing to describe. It is almost impossible to discuss the game without talking about what makes it special. Do yourself a favor, play this game, I guarantee immediately upon finishing it, you will want to talk to someone, if for nothing else but to just see their face and say "WTF just happened." Yes it is one of those games.
In the end, I've no doubt INSIDE will end up being one of the most memorable experiences I've played this year. Its puzzles are expertly designed, its presentation staggeringly beautiful. Personally, I'm not sure its four hours of content are worth the $20 asking price, especially for an ending that leaves you with more questions than answers.
Inside is bizarre, beautiful, dark, and one of a kind. If you look at it from the outside, you're looking at a simple, beautifully drawn puzzle game. But you need time and attention to notice how deep the game is. I finished the game, and found myself drawn to replay it, and that's a sign of how good the game was. if you own an Xbox One (soon to be released on PC) then this is a game you should never ignore.
Review in Arabic | Read full review
Playdead has greatly improved how it delivers a story, but hasn't moved away from ambiguity. The latter three-quarters of Inside cheapens the otherwise refined package, only saved because the studio is the undisputed master of horrific puzzles. Ending aside, it's definitely worth a look.
INSIDE brings another 2D platformer with puzzles to the Nintendo Switch catalogue but this is a game that clearly stands out on its own merits, thanks to its marvelous art style that suits it perfectly, to its high quality puzzles and to an overall experience that is challenging and long-lasting enough to be appreciated by all its players.
Review in Portuguese | Read full review
INSIDE is still the same excellent game from 2016, now released on the Switch for convenience, portability, and the potential to reach a whole new audience. It is a must-play experience that feels right at home on Switch.
Inside is a beautiful, haunting tale of survival and individuality with engaging puzzles and an intriguing world.
Inside begeistert wie bereits sein Vorgänger mit einem großartigen Setting und einer doch sehr interessanten Geschichte. Leider baut sich in den 3-4 Stunden Spielzeit wenig an Herausforderung auf und auch die Rätsel fallen leider doch um einiges einfacher aus als damals in Limbo. Inside macht zwar nicht unbedingt alles richtig, bietet aber eine großartige Atmosphäre für einen Indie Titel und wird vor allem Limbo Fans wieder überzeugen können.
Review in German | Read full review
Pure Playstation
7.8 / 10.0
"To me, this game is a modern classic that truly showcases what a developer can achieve when they try to bring every aspect of a game together to form a cohesive piece of art. I would recommend it to fans of Limbo, Abzu and any Oddworld-type platformer. I am acutely aware, however, that this opinion will not be shared by everyone who plays"
It looks incredible and controls beautifully, but Inside's best ideas are spread too thin.
You'll get roughly four hours out of the game, and there're a couple of hidden things to find throughout for Achievement and Trophy hunters. But it's hard to establish the thought of replayability -- each puzzle you pass is a hardwired solution, meaning the thought of going back and just finishing something you already know how to do is hollow in exercise.
It's clear that a lot of time and effort went into what is presented to us as a game. The issue I keep coming back to is that none of it made any sense. None of it meant anything. If all of these disparate environments and puzzles could have been brought together along the way or at the end in a cohesive story, I would certainly give it a better score.
It always feels like Playdead could have done a bit more with the gameplay by making it longer and having more complexity to some of the puzzles. Most people will feel completely bewildered when it is all over.
All told if you do everything possible in this game you still fall well short of 10 hours, but at $20 it's a novel puzzle platformer that definitely scratches the indie itch. Following up Limbo should have been an arduous task but it seems that developer Playdead has the ability of blurring the lines between art and video games inside its DNA. I for one feel like games like this need to exist in an industry bursting with more and more mundane AAA titles. Now if only it can take less than 6 years between games. Inside was definitely a very good game, even at times great but it was by no means a perfect platformer and was at best a pretty good puzzle game. What makes Inside good is the overall experience i.e. the tone, setting, pace and soundtrack. Definitely a must play.
I'm sure others will (and already have) find meaning in Inside. There'll be fascinating, insightful deconstructions and I look forward to reading them. There's a wealth of praise for the game already. It's clearly spoken to a lot of people, but it didn't speak to me – except, perhaps, to berate me for not being smart enough to understand what it's trying to say.