Percentile Rank
Nier: Automata is ranked in the 98th percentile of games scored on OpenCritic.
Rating Summary
Based on 149 critic reviews
OpenCritic Rating
Based on 149 critic reviews
Score Distribution
Unscored Reviews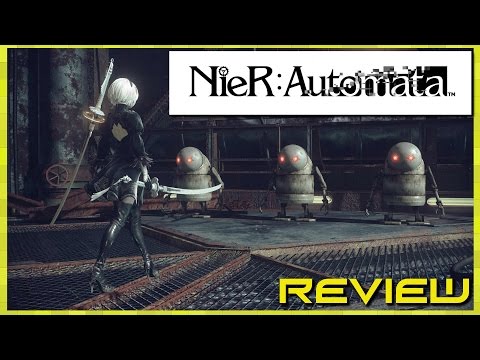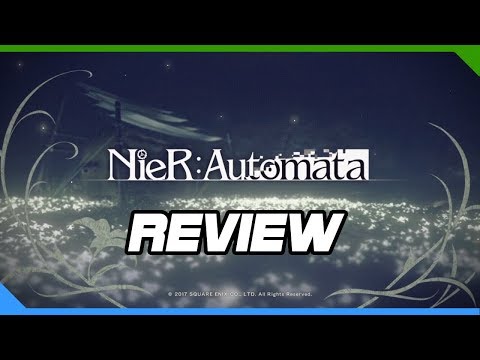 Yoko Taro's eccentric action RPG gets a follow-up that's every bit as surprising as its predecessor with a little help from Platinum Games.
Giving players the option to enjoy the game on their own terms is something Nier: Automata does very well. Challenge-hungry players can ramp the difficulty all the way up, doing away with silly things like targeting and aiming. Folks who just want to enjoy the nice game with the pretty androids can set the difficulty to easy, which allows for the equipping of special chips that auto-heal, auto-fight, auto-dodge—they almost play the game for you.
During one sublime moment, after the visuals on the screen began degrading before my eyes, I really felt as though I didn't know what the game might throw at me. At that moment, I wondered if it might be right to call "Nier; Automata" an experimental action game. In any case, I can't wait to see what Yoko Taro does next.
It's testament to Taro's talent for storytelling that the game inspires replay as much through its narrative hooks as its baser promise of trophies and a 100% competition record.
Rock, Paper, Shotgun
Unscored
It's rare to see such ambitious storytelling and open world roleplaying tied to such a stylish combat system, not to mention the (optional) Souls-like multiplayer elements, shooter tangents, mini-games that punctuate rather than interrupting, and that big ol' world to explore. You don't need to have played any of Yoko Taro's previous games to appreciate Automata, even though it has links to both Drakengard and (of course) the original Nier, but it'll probably make you keen to seek them out. Me? I'm hoping Platinum get a chance to work with these worlds and words again.
NieR: Automata is a great, teetering game tilting from possible profundity to surreal spectacle on a delightful lurch.
Nier: Automata is easily one of the best games I've played in a long time. It evoked an emotional and thoughtful response from me, and overall, is just a tonne of fun to play. It's polished and gorgeous with a quirky sense of humour to break up the more deep, dark existential themes that run through.
Scored Reviews
NieR: Automata is without a doubt one of the best games of the generation and it's likely going to remain one of my personal favorite games ever.
Meticulously weaving gameplay and narrative together, Nier: Automata is Yoko Taro's magnum opus - succeeding brilliantly in expressing his vision.
Square Enix and Platinum Games team up to provide one of the best RPG experiences available today, as NieR: Automata carves out a place for itself amongst genre giants.
NieR: Automata is the rare title that showcases what's absolutely so special about video games as a medium. From storytelling to gameplay, this is a truly unique experience that needs to be played.
NieR: Automata is the perfect mix between Action RPG and Beat'em all genres. With a solid gameplay at the service of a clever, well written and thought provoking story like rarely seen before, the title is a bliss to go through until a grand final that won't leave you indifferent. Masterful, sublime and moving, the work of Yoko Taro transcends its older sibling without difficulty thanks to a character design, and a visual and musical artistic direction that will take your breath away. However, it's not with its technical side that the title will remain in history, but rather because of something deeper and intimate, like not many games manage to do. Already cult, NieR:Automata deserves indisputably to chair proudly besides the greatests games published to this day.
Review in French | Read full review
We don't get games like Nier: Automata too often. And by that I mean games that simultaneously weave a deeply harrowing existentialist narrative, in addition to playing with our expectations on how we play games. There's nothing else around like Nier: Automata (except for maybe its predecessor). And in an industry that sometimes leans too heavily on sameness, it's wholly refreshing.
NieR Automata is the first game to truly stand up and greet ludonarrative dissonance as a friend.
There are already too many titles vying for gamers' attention, and it's only March, but I'd make damn sure NieR: Automata isn't one of the games you miss this year.
Nobody expected NieR: Automata to be this good, but by sheer force of will through all parties involved, it could very well wind up being the best game of 2017. It's a game that improves on the tired genres that it borrows from, and more importantly, it takes everyone's game to the next level.
The action is superb, the story is one of gaming's best, the atmosphere and tone are easy to get lost in, and the soundtrack is a marvel, with the end game credits song being one of the best in existence.
Yoko Taro's wild ideas and Platinum's workmanlike approach to action game design are a match made in heaven. NieR Automata manages to be shocking and moving in ways that very few games are, beautifully presenting philosophical concepts that will take a long time to unpack. This is a game that people will still be talking about twenty years down the line.
Level Down Games
100 / 100
Square Enix and PlatinumGames really knocked one out of the park with NieR: Automata. Do not let this franchise die and fade away! It deserves to be one of the main staples right up there alongside Final Fantasy and Dragon Quest, especially if it continues to have as big of an impact as this one did over the original. When we set out with Level Down Games, never in our wildest dreams did we imagine that we'd have three masterpieces release in the span of one week. But that's exactly what happened.
If you are a fan of previous games made by Yoko Taro, you will be delighted. NieR Automata enchants not only with the world and beautiful music, but also with the perfect combination of several genres. In this game, there is no place for boredom and monotony.
Review in Polish | Read full review
NieR: Automata is a special game and one that will stick with you long after the credits roll.
NieR Automata is the ultimate JRPG, mixing perfectly this genre with the Hack n' Slash style. It succeeds in every aspect: A complex and deep story, beautiful design and a unique style. This game is a true masterpiece.
Review in Spanish | Read full review
Nier: Automata has easily become one of my favorite games of all time. The tight gameplay mechanics, interesting background, weirdly depressing story and incredible music all combine into a game that is a joy to play, and an experience that will stay with me for quite some time. If you enjoy action games, weird stories, or titles that play with your expectations, you owe it to yourself to play Nier: Automata.
Common Sense Gaming
10 / 10
Nier: Automata is a perfect introduction to Yoko Taro and Platinum Games. Masterful story telling and silky smooth combat come together to highlight why video games are the superior form of entertainment media. Playing Nier: Automata until the true ending will reveal what it means to be a gamer, and a good human.
lot of games, if not all of them all, have that something you would have changed or done differently in some situations. Nier Automata is the first game in memory where I walked away without wanting to make a single change to the experience.
Nier: Automata is an absolute masterclass in game design. It surpasses expectations time and time again resulting in an experience not to be missed by fans of action titles.
One of the best PlatinumGames' releases. Engaging and unforgettable action-RPG which flawlessly blends genres and constantly surprises. It's difficult not to be amazed — even after five main endings you'll probably want to come back to this strange, crazy and unique world.
Review in Russian | Read full review
NieR:Automata is one of the finest games I have ever played. It is a genuine masterpiece.
Put simply, NieR: Automata is the greatest game ever made. It's not just that it is the deepest and most narratively potent game ever developed - and it is a truly deep narrative experience - but more than that, Yoko Taro has finally found perhaps the developer on the planet capable of doing his visionary work justice.
NieR: Automata isn't without its flaws. The game could've done away with its fetch quests completely, and the combat could've been a little more balanced.
Nier: Automata the best game from Platinum Games yet. It's an action packed game that also has an incredibly engaging story and tons of fantastic characters. This is the best action game I have played in years and one of the best games I have ever played in my life. It's gonna take a lot to take my personal Game of the Year award from Nier: Automata as its currently sitting in the top spot.
Chalgyr's Game Room
9.8 / 10.0
With interesting mechanics such as "beating" the game for dying at certain times or doing silly things like removing your operating system, or the extremely odd way that some of the enemy machines pantomime the more mundane (or not so mundane) actions of humanity, Nier: Automata is oft-times confusing but the deftness with which the various elements found throughout, miraculously pulls the game together and is anchored by the best music in the business. What results is easily the most under-appreciated game of these last two years.
All of the positive things in Nier: Automata outweigh the negative. Its story is absurd, yet interesting, its characters feel human despite their mechanical makeup, and it's all layered with unique gameplay elements that keep it feeling fresh and fun. Automata makes a very strong first impression, and it's able to carry that weight through its myriad of story arcs and endings.
PlayStation Universe
9.5 / 10.0
Exceptional in every way. NeiR: Automata delivers on every cylinder, providing one of the best experiences this year. In every generation there is a game that leaves an impression on you and for me NieR: Automata is that game. To put it simply, NeiR: Automata is a magical experience.
Paste Magazine
9.5 / 10.0
Platinum and Yoko Taro are an expert pair here, harmoniously bringing together dozens of eclectic sources from philosophy to anime to history to real-life war to silly, over-the-top fight sequences into one cohesive whole where not a single part feels unnecessary, and all contribute to the larger message. It is a timely story about our priorities as a society and our continued relevance in an increasingly automated world, told in a clever way that makes meaning out of about four different genres worth of mechanics and yet could still be called elegant. It's a sharp commentary that could only be done through games, and for now, it is easily the magnum opus of either of its authors.
Deep story and fluid combat make Nier: Automata a truly special experience.
After NieR's slight success, many lost their hope about the second installment of this series. Even those who believed in Automata's success, didn't expect much, but after being officially released, Automata proved itself to many, that not only it is quite the masterpiece that everyone was waiting for, but also a rare experiece with deep and emotional meaningin it. A fresh and stylish gameplay along with dynamic and beautiful graphics and a massive deep, unique storytale that will deliver you an enjoyable and unforgettable journey through a metalic dystopian world
Review in Persian | Read full review
NieR: Automata is a true masterpiece that shines throughout, and a must play for all PC, PlayStation 4, and Xbox One owners.
Digital Chumps
9.5 / 10.0
Nier: Automata is the videogame twin of those tabletop games that demand players disfigure and destroy its pieces. In Automata's case, PlatinumGames' house-brand of action sustains engagement and empowers director Yoko Taro's disarming unorthodoxy, positioning Automata as cordial agreement between boundary-obliterating determination and boisterous violence. As a videogame designed to experience the paradox of poignant optimism, Automata isn't the most efficient mechanism, but it's easily the most effective.
NieR: Automata is one of the biggest surprises so far in 2017. Besides some excellent combat mechanics and the usual Platinum Games Style you get a deep story with some great twists and an amazing soundtrack. The game doesn't make it easy for beginners to get into the mechanics and story but we still recommend to everyone to try it out.
Review in German | Read full review
Nier Automata finally arrives to Xbox One, including every DLC released, and with improved resolution for Xbox One X. It is one of the greatest J-RPG of the generation: difficult, rewarding and with great characters.
Review in Spanish | Read full review
NieR: Automata takes what was great about NieR and adds some fantastic action gameplay on top of it.
Although it might not be a perfect game, the sum of NieR: Automata's unique storytelling meshed with Platinum Games' style of action, meld together into a title well deserving of being one of my personal Games of the Year.
NieR: Automata is one of the biggest surprises in the year and one hell of a game. It offers a diverse variety of genres in a well designed title with fluid and dynamic controls where fast-paced action never stops. On top of that, its full and rich cast of characters and well-set story makes this one of the most interesting projects we will see in 2017 and one game than no one can miss any any means.
Review in Spanish | Read full review
NieR: Automata improves on its predecessor in almost every way. It's thoughtful, inventive, subversive, and an absolute joy to play.
Honest Gaming Reviews
9.2 / 10.0
I wasn't too sure whether I was going to like this game or not, it's not usually my style of game, however I have thoroughly enjoyed playing it and will continue to do so. The story has really gripped me and I would highly recommend the game.
Nier: Automata is something more than your typical hack 'n' slash game. Everything is either eccentric or mind-blowing; and above them all stands its philosophic story which contains a lot of references and metaphors. Nier: Automata has raised the Nier franchise to a whole new level, thanks to Platinum Games and Yoko Taro.
Review in Persian | Read full review
NieR: Automata is an absolute masterpiece from beginning to end (or ends, to be a bit more accurate).
Despite some technical issues, NieR: Automata is an excellent action RPG experience that doesn't give you a moment to breath. In addition, the story is not silly and leaves a deep impression in you.
Review in Czech | Read full review
Nier: Automata is nothing short of marvelous game. The game's characters and developments that some go through are breathtaking. This is a game where the more you put into it the more you will get out of it as some side-stories will give more context to some parts of the main one. On top of that, you'll hear some of the best music this generation. The final boss music is some of the best created to date. Combine with a completely customizable control scheme to boot. The good is phenomenal with the bad being negligible to almost pretty distracting at time. It's an absolute miracle that this game came to be, and what was delivered is Platinum's return to form and another chance for the world to experience a game helmed by Yoko Taro.
Whenever I try to jump to some higher place, since 9S is blocking the way I wouldn't be able to nail it the first time around or when I tend to circle back from where I came from, 2B's character doesn't just slip through 9S' which ends in me dragging 9S' sorry butt backwards all the way back to where I started. Talk about awkward movement. But despite these areas where the game might need some improvement on, this game is quite a huge success. It caught my attention from start to finish and it made me yearn for more when it ended. As what a famous quote said, "All good things come to those who wait."
Yet, it's a fantastic and well balanced mix between sleek PlatinumGames action and JRPG gameplay, resulting bigger than the sum of its parts. It brings forth an absolutely fascinating setting, and charming, likable and memorable characters that will both make you smile and tug at your heart strings. 2B, 9S and the rest of the cast already cut themselves a well deserved corner in my heart, and I'm positive they will do the same for many of you as well.
A fantastic mix of explosive action and thoughtful storytelling, that results in one of the most unpredictable and ambitious action role-players of the modern era.
NieR: Automata is nearly as good of an RPG as it is an action game, which is a mighty tall order. It's tough to really strike that balance as many action-RPGs tend to favor one element over the other, but Platinum Games, with the help of Square Enix, has tapped into its innate ability to captivate us with combat while keeping the rest of the journey engaging.
The sequel to Yoko Taro's cult hit is a beautifully frenetic hack-and-slasher with an engrossing and layered story.
Hands down, one of the smartest action titles Platinum Games has ever put out, with a rousing score and some of the best narrative ideas I've seen in a videogame.
To see, feel, and experience Nier: Automata in your hands nearly seven years after its predecessor…is like a blip from another timeline, crossed over to our own in a moment of bewildering brilliance.
A role playing game rich in unique characters and a multilayered story waiting to be unraveled, with one of the fastest and slickest fighting system in a game of its kind, against a diverse cast of bosses. All of this in addition to this year's best and most unique soundtrack, and this uniqueness extends to the gameplay and quest designs, all with the patented Yoko Taro touch. Its only let down by an unbalanced difficulty that robs many boss fights of their grandeur, and the sparseness of its world.
Review in Arabic | Read full review
NieR: Automata has more creativity and self-awareness in its little finger than most games have for their entire run time. Don't miss this because it's sandwiched between other, bigger games.
PlayStation LifeStyle
9 / 10.0
Nier: Automata is a delectable buffet of remarkable experiences that seamlessly and beautifully mesh together. In spite its plethora of elements, the game doesn't suffer from the sometimes inevitable pitfalls of trying to do too much. This new entry into the series improves on what made the original so great while remedying some of its predecessor's most glaring weaknesses. PlatinumGames has done an excellent job at taking Yoko Taro's deep and interesting world and giving it an amazing gameplay experience that fits it perfectly. Fans of the original as well as newcomers to the series will undoubtedly appreciate what Nier: Automata has to offer.
While it's certainly not perfect, Nier: Automata is nonetheless a breath of fresh air that will challenge your thumbs as well as your thinking - a game with hydrocarbon heart and silicon soul that will stay with you long after you've set the controller down.
Nier Automata is a better game than the original in every way possible. Although performance issues may annoy some players, you wouldn't want to miss out on some classy combat, amazing story and perhaps the best action game you can play on your PS4 right now.
By genre, you could say that Nier: Automata is an action role-playing game. But the reality is that it's a whole lot more.
I leave Nier: Automata behind, not just pleased with it, but enraptured by it. Hopefully you will too.
NieR: Automata is a triumph of creativity, superlative combat, interesting characters and is just an all-round great game. Its short-but-sweet story is given substantial depth by a game structure that encourages and incentivises multiple playthroughs
Cheat Code Central
4.5 / 5.0
I'd tell you to expect the unexpected, but NieR: Automata steps outside of its comfort zone too often for you to become comfortable. For a game about questioning your purpose and identity, NieR: Automata seems comfortable in its own skin.
Nier: Automata takes fantastic action and RPG elements and blends them into a game world unlike any other, creating a truly memorable experience. The game continuously pleases and surprises with terrific gameplay that is constantly transforming, and a narrative that keeps you thinking and guessing. It has a lot to offer, and is an experience that shouldn't be missed.
Before playing it, I had Nier pegged as a fun hack-and-slash game. What I didn't bargain for was an existential RPG that would soon have me questioning almost everything I saw. Featuring a gripping plot that tackles surprisingly hefty themes, its brilliant writing not only makes you think twice about your role in the game's world but occasionally even about your place in our world too. It's certainly not without its flaws, but regardless of your typical gaming preferences, you owe it to yourself to check this wonderfully weird experience out.
The camera behaves sort of weird at times as well, but this is also highly customizable.
Reno Gazette-Journal
9 / 10.0
"Nier: Automata" features a mishmash of gaming mechanics that surprisingly works. Whether it be "shmup" shooting, 3D action fighting or even open-world adventuring, everything in the game comes together fluidly like a three-cheese dip. The art style won't be for everyone and it can get fetchy at points. For fans of Japanese action and RPGs in their various forms, however, this is one treat worth imbibing in.
NieR: Automata offers top notch action with an emotionally engaging story. It is the perfect blend of the crazy direction of Yoko Taro with the gameplay specialty of Platinum Games, resulting in one of the best games to be released this year.
Yoko Tano's unique storytelling ability has matched perfectly with the committed development culture at PlatinumGames, making NieR: Automata a mature and thought-provoking action-JRPG. Its tight combat and compelling narrative sets it apart from both its predecessor and the Drakengard series, and it's utterly essential for fans of the genre.
NieR: Automata is a game full of surprises in a post-apocalyptic desolated world that is combined with a intriguing and complex narrative. The spectacular writing of Yoko Taro is well received by excellent mechanics, a graphic and art design that act as another narrative element, in occasions, even more than the dialogue itself, and a camera perspective and gameplay variation that impress and innovates in every step the game takes. Yoko Taro, Platinum Games and Square Enix, without a doubt have given PS4 and PC one of the best games of this generation!
Review in Spanish | Read full review
Ultimately, NieR: Automata is a game that will stay with you long after you've seen the credits roll for the second, third or even fourth time; the memories of its characters and music lingering in your head, reminding you of what games can be like if they dare to be different.
NieR: Automata admirably manages to transition from cult favorite to mainstream title without becoming over-ambitious...I would call this Taro's masterpiece, but it's practically his AAA debut, so let's not go jinxing it.
Nier: Automata is a kickin' rad action game that's also a twin-stick shoot-'em-up and a 2.5D platformer and role-playing game, and anything else it might need to be at any given moment.
Sometimes, you get the ultimate pairing of both chocolate and peanut butter, and in the case of Nier: Automata, that's Yoko Taro and Platinum. Automata is an amazing game even by the high standards of this year. Its flaws don't detract much from the experience, and the combat is fast, stylish and fun. The story is engaging, and the music is phenomenal. Some poor graphics performance and a slight repetitiveness to the combat drag things down. If you're a fan of Taro's games, Automata is by far his best on a gameplay level. If you're not already a fan, Automata is a bizarrely distinct game that's absolutely worth experiencing.
Nier: Automata is a brilliant, slick action RPG pumped with so many cool and distinct features, and a story that that I could keep talking about all day, but let's not spoil what should be experienced, nor bore everyone with mechanics and finish up the review with a final statement.
What is lacks in scale is made up for in its sense of style - and improving upon both next time around could result in something utterly remarkable.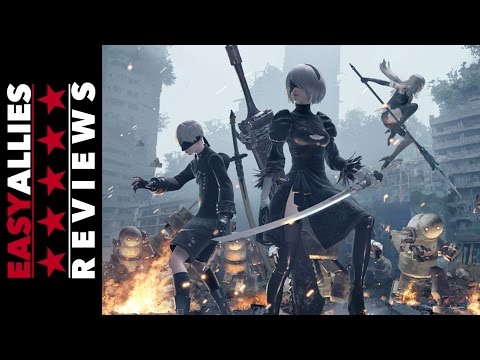 This is one of the best single-player RPGs to ever embrace PC, delivering a long-lasting adventure that entertains with its exciting gameplay while piercing the senses with the story it has to tell. Arriving just days after its console version, it serves as an example that the PC platform hasn't been forgotten.
NieR: Automata is a once in a generation kind of game that must be encouraged and supported
Despite its issues, NieR: Automata is a game that we rarely have the privilege of experiencing. Auteur designer Yoko Taro successfully blends his oddball knack for storytelling, defying typical video game conventions in doing so. This leads to a truly unforgettable story, but the way in which it's told and demands repeat playthroughs is bound to be lost on some part of NieR: Automata's audience. Regardless, NieR: Automata blends strong action and RPG components into an atmosphere and game that's well worth experiencing.
Nier: Automata have been able to absorb the very best from original game, including great music, powerful and very complicated story and unique blend of several genres. Platinum Games has expanded the character customization and greatly improved combat, which now should please not just RPG fans, but also Action enthusiasts. All this allowed the project to reach an entirely new level of performance. Nier: Automata is, without a doubt, one of the best releases on the PlayStation 4 and the game that should everyone, who cares about unique signature projects, returning us to the Golden Era of the PS2, play.
Review in Russian | Read full review
The Jimquisition
9 / 10.0
Few games are able to showcase the power of the medium like Nier: Automata.
In spite of all the odds against Yoko Taro's career, he has finally created a true masterpiece that delivers on all fronts that includes gameplay. Environmental detail aesthetics lacking aside, Nier: Automata is an unbelievable game and one that just might make even the most stone cold-hearted gamers well up into a weepy emotional mess. This is a landmark in storytelling in games that is one that embraces the fact it is a video game and does not try to imitate film in the way most story driven games do. Nier: Automata is bold and weird without being pretentious, but most importantly it knows how to be a fun video game thanks to masterclass action game design.
Nier: Automata is a spectacular game. It's a pseudo-perfect blend for those not-so-experienced players of Japanese RPGs. Its hack-and-slash-style fighting components and occasional shifts to the shooter genre, with frenetic camera dynamics, offer the player a fluid and welcome experience, in contrast with the classic and "slow" pace -if I may- of a typical JRPG.
Review in Spanish | Read full review
Nier Automata is unforgettable. The gameplay is all sorts of Platinum Games fun but the story is what will remain with you long after it's done.
NieR Automata is an extraordinary action-rpg: a perfect hybrid of varied gameplay styles. It is also a mesmerizing union between the talent of Platinum Games and the fantasy of Yoko Taro.
Review in Italian | Read full review
A strong candidate for game of the year award, Nier: Automata offers a mature story, deep gameplay, marvelous soundtrack, engaging world and atmosphere, and a very unique experience in general. Do not miss it.
Review in Persian | Read full review
Nier Automata shines as a magnificient action game and a strong open world RPG with an amazing narrative. Charming, full of surprises, unique, deep, powerfulit is indeed an amazing entrance in the series, that can please fans and newcomers.
Review in French | Read full review
So as I sit here drinking the last of my fine lager, pondering the meaning of existence, I wholeheartedly recommend you pour yourself a glass of Nier Automata too. PlatinumGames has had many high points throughout its 11-year existence, but never has it delivered something quite as mesmerising as Nier Automata, an action-RPG to be truly savoured.
NieR:Automata succeds in a lot of elements: a complex and deep story, with a unique style of narration, a distopic and totally story driven open world and a fantastic mix between hack'n'slash and jRPG style.
Review in Italian | Read full review
Despite its minor blemishes, this is a quintessential title to own if you own a PlayStation 4.
Nier: Automata is the definition of a video game. Platinum games made a game which can entertain you for countless hours. After finishing the game, you can easily start it over. It doesn't matter if you like Japanese games or not, Nier: Automata is a game that you have to play.
Review in Persian | Read full review
Nier Automata is a wonderful title, with great music and perfect story. The best title of recent years.
Review in Italian | Read full review
NieR: Automata is not a perfect game, but it's damn near close to perfection. I've enjoyed every moment of it, and although the post-apocalyptic Earth felt a little synthetic, perhaps that was the point. Missing out on NieR: Automata would be missing out on one of the better JRPG's I've played in a long time. The game explored interesting themes through the means of multiple genres, all executed to the highest of standards, and it deserves credit for that. If you're a fan of "the PlatinumGames touch", be sure to grab NieR: Automata - you won't regret it.
The Outerhaven Productions
After spending well over 20 hours in this post-apocalyptic cyber world, I still can not put NieR: Automata down. While the original was clearly a niche title that failed to make a massive impact, the sequel was designed to keep the original charm but appeal to a greater audience. Easily one of the better titles from Square Enix, thanks to the Platinum Games putting their foot into the fantastic combat system. The story is interesting, the music captivating and the world has its own charm and personality. Another reason to own a PlayStation 4 or PlayStation 4 Pro.
Gary reviews Square Enix & Platinum Games' third-person action game Nier: Automata [VIDEO DISCUSSION].
NieR Automata is a special game, a miracle even that a Yoko Taro game has amazing gameplay that compliments the story. An absolutely amazing story that I still think about after beating and a great amount of replay value. Even though it's ideal that you do some homework before going into NieR Automata for the best possible experience story wise you can still play it and have a good time no problem. The success of this game could mean more Yoko Taro directed games and even more collaborations with Platinum. Here's hoping for more in the future.
NieR: Automata is an utterly fantastic title. It has some definite flaws, but these flaws just disappear into the background as you get deeper and more immersed in the experience. It's hard-hitting and poignant, and provides a polished action-JRPG combat in an underwhelming series that really needed it.
Geeks Under Grace
9 / 10.0
Nier: Automata is a crazy, beautiful, and highly entertaining journey full of nutty ideas and awesome gameplay. It may not include the most sensical story or compelling characters, but its frenzied combat -- coupled with beautiful visuals and a stunning soundtrack – make it too much fun to pass up.
When it comes to action-packed gameplay and breathtaking audio, NieR: Automata goes above and beyond almost every game in existence.
NieR: Automata is a great game that captures you from the very first moment. The well-rounded combat mechanics, the mystery in its story and an addictive customization system won't let you release the controller, despite some minor imperfections that don't affect the experience in any meaningful way.
Review in Spanish | Read full review
VGProfessional
8.8 / 10.0
More than a successful sequel, NieR: Automata is a gem with multiple flavors for all sort of players. While some will undoubtedly make the mistake of focusing at its dated technical features, they will miss out on an experience full of twists and turns. Featuring a captivating scenario that raises a lot of reflections on what goes on with the machines, NieR: Automata enhance the gameplay of the original 2010 game, adding much action from the know-how of Studio PlatinumGames. Original and surprising on many aspects, fascinating to discover and to listen to, NieR: Automata has it all to make it a memorable game.
NieR Automata is a great hack-and-slash that manages to stuff so much content and gameplay styles in one package. Open world exploration isn't the best, but the whole experience makes up for the sum of its parts.
NieR: Automate it's one of the best action games of the last few years, and a complete tribute to the video games industry.
Review in Spanish | Read full review
Aliens attacked earth and left robots to deal with the remains, we sent robots to deal with their robots.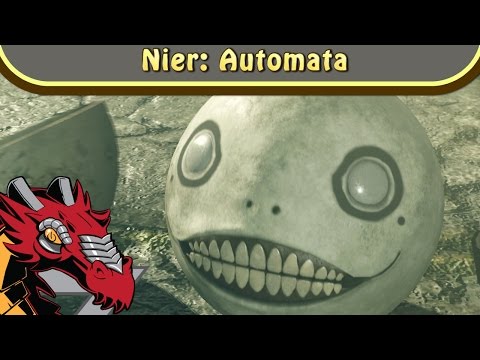 An engaging, action-packed and even relaxing exploration of existentialism. Nier: Automata merges action and RPG as seamlessly as it switches cameras angles from player-controlled to fixed scroller. Have your pick of reading a visual novel and threading the plot together, or hack and slash through waves of enemies in a gorgeous dance - I did them all, and I loved every minute. Worth full price.
The Games Machine
8.7 / 10.0
This new game from Platinum Games is far from perfect: it's raw, complex, sometimes even too challenging, and yet it's almost an authentic masterpiece. The unique vision of Yoko Taro, together with the strong personality of the characters, the deep and ever-changing gameplay, yield a real gem in the videogame landscape.
Review in Italian | Read full review
Nier: Automata is one of the most original, surprising and brilliant games of this generation. Not perfect, but unmissable.
Review in Italian | Read full review
Sci-Fi-philosophy, comical ideas and a great fighting system add up to a superbly playable Action-RPG-Mix.
Review in German | Read full review
While Nier: Automata at times feels unpolished or under-developed, when taken as an entire experience, it's a fantastic journey of a group of androids struggling to live up to their purpose in life. Here, unconventional narrative design meets tightly-developed combat gameplay, and that turns out to be one heck of a combination.
You don't really see games with the level of Polish that Nier: Automata has. The combat is smooth, the story is captivating, the world is alive and evolving, and it's all backed up by an incredible soundtrack. The game does lack with its textures and can get repetitive at times, but even with those problems the game sets itself apart from most on the market today, and it's one of the more original and enjoyable titles to play.
IGN Middle East
8.5 / 10.0
I wasn't particularly hyped for NieR: Automata before its release but as soon as I started playing, I was hooked. The stellar storytelling, the rich plot, the varied gameplay, the challenging enemies that forced me to change my tactics again and again, all contributed to an enjoyable experience. The game isn't without it's flaws however, as it suffered from repetition in the second half as well as mediocre visuals for the environments and using a conversation system that's beneath it.
Review in Arabic | Read full review
Nier: Automata offering a great story driven content and lots of surprises including diversity in gameplay all in one package, you've got lots of Bosses with scaled difficulty across all levels with a masterpiece music combined with every scene serves this title very well, but the side missions aren't on bar with main story missions, also graphics isn't up to 2017's game design standards
Review in Arabic | Read full review
NieR: Automata is a gem every gamer should play at least once, regardless of its issues. Though struggling to reach the same status as its competitors, it remains one of 2017's most unique releases as well as a hallmark in storytelling.
Red Value Gaming
82 / 100
Nier: Automata is a great game but has quite some flaws, which may put off action- and gameplay-oriented players. Anyone looking for an experience focused on the story and thought-provoking elements will greatly appreciate the game as it shows some absolute brilliance there.
There are annoyances, such as some unnecessary repetition, and it never really challenges as an ultimate gameplay experience, but these are more than made up for by the excellent presentation of fascinating story with intriguing and strongly-utilised themes.
After a couple of mediocre titles, Platinum Games are back – and they're better than ever. Nier: Automata is an almost perfect action game, with an interesting story and fluid gameplay. A must have for anyone that looking for a challenging action game.
Review in Swedish | Read full review
Automata may not be for everyone, but if you're ready to dive deep in it, you might just find something really worth the effort after all.
Review in Arabic | Read full review
Despite some minor annoyances, NieR: Automata is brilliant. It strikes the balance between RPG and action game unlike anything else in the genre. It's a game you kind of have to meet halfway, with a story that gets more complex and interesting the more you prod at it. If you're willing to commit, though, you'll be rewarded.
If that's my biggest problem with it after clearing each of the game's five core endings, that should say everything. Nier: Automata is a game that's more than willing to make players feel small, both physically and conceptually. It wants to swallow them whole, and it succeeds. Nier demands patience with its antics — not to mention its definition of "ending" — but it's patience was rewarded.
An oddity that grows in stature the more time that you spend with it, NieR: Automata is so much more than you think it is – and it's all the better for it. Some decent writing aside, its side-quests fall into genre pitfalls and its open world can be annoying to navigate. But if you're able to look beyond its shortcomings as a game then you'll be richly rewarded. And while we can't really elaborate on why that is, you're just going to have to trust us.
Super smooth and innovative combat merges with incredibly unorthodox game design for a must-play PS4 entry.
You'll have so much to do and so many ways to do it, with a series of endings as vast as a game like Torment: Tides of Numenera (which was mostly text-based). Nier: Automata begs to be replayed, even as it's punishing you for doing so.
'NieR: Automata' surprised us as a smart action RPG with a philosophical heart that continually reinvents itself.
This game takes the medium and spins it on its head in a way only video games can do, and it is a marvel to experience.
You don't have to be a soulless, unthinking machine to dislike NieR: Automata, but it helps. This is a very, very special game - sufficiently special that it honestly deserves a better port than it got.
New Game Network
80 / 100
NieR: Automata's engaging narrative, blending of gameplay genres and fantastic soundtrack are what make it special. Though somewhat hampered by simple yet slick combat, and level design that fails to fully realize its sci-fi dystopia setting, it is still a game that is absolutely worth your time.
A truly brave experiment in game design, which overcomes its erratic elements and occasional repetition with a remarkable piece of storytelling.
The Game Fanatics
8 / 10.0
It's a game that strives to be a lot of things and delivers on most, while falling flat on a handful of others. It's a super stylish action RPG with one of the most satisfying combat systems I've played on the PS4, and it largely accomplishes what it sets out to be. The shortcomings don't ruin the game, but they do a consistent job of reminding you that they're there, taking away from the overall experience at times. Ultimately, if you're looking for flashy, fast paced fights and epic robot action in a beautifully designed world and atmosphere, NieR: Automata is a must play.
A sequel to cult classic Nier was a worrying prospect to some, however Platinum Games have done a brilliant job with this spiritual sequel. While it has some niggling issues, the combat is typically brilliant for Platinum, and the game excels in almost every other respect. A beautifully crafted, yet quirky world that demands multiple playthroughs.
NieR: Automata has far too much padding and would be better as a 20-hour experience instead of a 40 hour one. Despite all that, I can't deny that there are parts of this game that simply have to be experienced. The music and the story are phenomenal; it's just a shame the combat doesn't live up to the highs I experienced elsewhere.
A beautiful, melancholy action RPG that's effortlessly stylish and utterly unpredictable.
While the story has many cool and interesting moments, the repetition and lack of depth make them hard to fully appreciate
Nier: Automata is a game I will absolutely never forget playing. It's wholly its own unique product, ripe with those brilliant, eccentric moments I've come to expect from Yoko Taro - the father of Drakengard - and Platinum Games, the storied developers behind Bayonetta, MadWorld, and a host of other fantastic action games. In the end, I'm glad to have spent so much time with a game that's so clearly the product of genuine passion, even if it didn't know when to roll the final credits.
Nier: Automata is a very good game recommended to everyone. The combat system is outstanding and the story is well written.
Equally fantastic and frustrating, NieR: Automata can be compelling and frantic one minute and then drag you down with annoying filler segments and a terrible open world the next. The good ultimately outweighs the bad, but I did wish a bit more was put into some elements.
There's no other JRPG like Nier: Automata out there. It blends all sorts of genres, although not flawlessly; it looks cool and has an awesome atmosphere, despite it being a tad rough around the edges; and its plot is simply an amazing piece of sad, thinking man's sci-fi storytelling, even though it disappoints quite a lot every now and then. Yoko Taro's newest creation isn't perfect… but this humble gamer is happy that it exists.
There is no doubt that Nier Automata is a great game, but the PC version does not do it justice. A new case of shameless port for PC.
Review in Spanish | Read full review
Nier: Automata is a match made in heaven, blending the zany tragedy of Yoko Taro's storytelling with Platinum Games' high-energy gameplay. Unfortunately, the PC port suffers from performance problems.
Post Arcade (National Post)
5 / 10.0
It's like it was made by a team of people with super short attention spans; they'd come up with a good idea, carry it half way, then get distracted by another