A beautiful, melancholy action RPG that's effortlessly stylish and utterly unpredictable.
Yoko Taro's eccentric action RPG gets a follow-up that's every bit as surprising as its predecessor with a little help from Platinum Games.
Nier: Automata is a crazy, beautiful, and highly entertaining journey full of nutty ideas and awesome gameplay. It may not include the most sensical story or compelling characters, but its frenzied combat -- coupled with beautiful visuals and a stunning soundtrack – make it too much fun to pass up.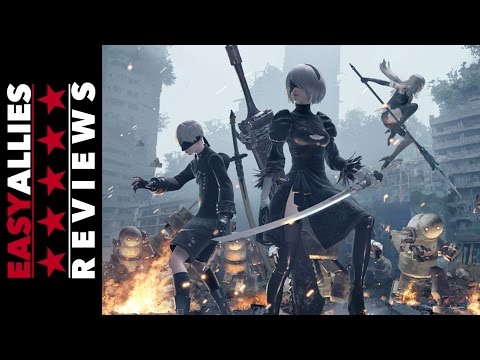 While it's certainly not perfect, Nier: Automata is nonetheless a breath of fresh air that will challenge your thumbs as well as your thinking - a game with hydrocarbon heart and silicon soul that will stay with you long after you've set the controller down.
A fantastic mix of explosive action and thoughtful storytelling, that results in one of the most unpredictable and ambitious action role-players of the modern era.
While the story has many cool and interesting moments, the repetition and lack of depth make them hard to fully appreciate
If that's my biggest problem with it after clearing each of the game's five core endings, that should say everything. Nier: Automata is a game that's more than willing to make players feel small, both physically and conceptually. It wants to swallow them whole, and it succeeds. Nier demands patience with its antics — not to mention its definition of "ending" — but it's patience was rewarded.
The sequel to Yoko Taro's cult hit is a beautifully frenetic hack-and-slasher with an engrossing and layered story.
Giving players the option to enjoy the game on their own terms is something Nier: Automata does very well. Challenge-hungry players can ramp the difficulty all the way up, doing away with silly things like targeting and aiming. Folks who just want to enjoy the nice game with the pretty androids can set the difficulty to easy, which allows for the equipping of special chips that auto-heal, auto-fight, auto-dodge—they almost play the game for you.
We don't get games like Nier: Automata too often. And by that I mean games that simultaneously weave a deeply harrowing existentialist narrative, in addition to playing with our expectations on how we play games. There's nothing else around like Nier: Automata (except for maybe its predecessor). And in an industry that sometimes leans too heavily on sameness, it's wholly refreshing.
This is one of the best single-player RPGs to ever embrace PC, delivering a long-lasting adventure that entertains with its exciting gameplay while piercing the senses with the story it has to tell. Arriving just days after its console version, it serves as an example that the PC platform hasn't been forgotten.
You'll have so much to do and so many ways to do it, with a series of endings as vast as a game like Torment: Tides of Numenera (which was mostly text-based). Nier: Automata begs to be replayed, even as it's punishing you for doing so.
NieR: Automata is nearly as good of an RPG as it is an action game, which is a mighty tall order. It's tough to really strike that balance as many action-RPGs tend to favor one element over the other, but Platinum Games, with the help of Square Enix, has tapped into its innate ability to captivate us with combat while keeping the rest of the journey engaging.
Nier Automata finally arrives to Xbox One, including every DLC released, and with improved resolution for Xbox One X. It is one of the greatest J-RPG of the generation: difficult, rewarding and with great characters.
Review in Spanish | Read full review
Yoko Tano's unique storytelling ability has matched perfectly with the committed development culture at PlatinumGames, making NieR: Automata a mature and thought-provoking action-JRPG. Its tight combat and compelling narrative sets it apart from both its predecessor and the Drakengard series, and it's utterly essential for fans of the genre.
NieR Automata is the ultimate JRPG, mixing perfectly this genre with the Hack n' Slash style. It succeeds in every aspect: A complex and deep story, beautiful design and a unique style. This game is a true masterpiece.
Review in Spanish | Read full review
I leave Nier: Automata behind, not just pleased with it, but enraptured by it. Hopefully you will too.
I wasn't particularly hyped for NieR: Automata before its release but as soon as I started playing, I was hooked. The stellar storytelling, the rich plot, the varied gameplay, the challenging enemies that forced me to change my tactics again and again, all contributed to an enjoyable experience. The game isn't without it's flaws however, as it suffered from repetition in the second half as well as mediocre visuals for the environments and using a conversation system that's beneath it.
Review in Arabic | Read full review
There is no doubt that Nier Automata is a great game, but the PC version does not do it justice. A new case of shameless port for PC.
Review in Spanish | Read full review