Percentile Rank
Pillars of Eternity II: Deadfire is ranked in the 98th percentile of games scored on OpenCritic.
Rating Summary
Based on 80 critic reviews
OpenCritic Rating
Based on 80 critic reviews
Score Distribution
Unscored Reviews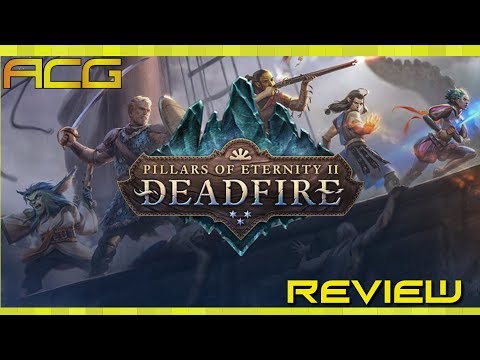 Pillars of Eternity II: Deadfire knows its audience and understands their focus, delivering its best content where it matters most; the story. The world of PoE2 is alive and breathing and teems with hundreds of characters ready to pull you into their own plot threads. Though it is let down a little by its reverence to ancient combat mechanics and an attempt to tack on new systems, the game shows off the love and care of its creators in the complex, interwoven class systems that allow for incredible diversity in combat approaches, as well as the beautiful design and graphics work that sees the Deadfire Archipelago glowing as few settings have done before. PoE2 is a title that every serious RPG fan needs to spend some time on.
Layers of rum-and-sunshine soaked RPG adventuring to lose yourself in. Does it really matter it doesn't quite tie together in the end?
Rock, Paper, Shotgun
Unscored
As it is, despite having spent dozens of hours playing this, I've always felt at arm's length.
Pillars of Eternity II: Deadfire, within the first couple of hours, contains the phrase "Cannon-fucking your boat to sodden splinters." Pirates might not make everything better – you wouldn't invite them to a booze-free wedding – but they've done wonders in Obsidian's RPG sequel.
Pillars of Eternity 2: Deadfire is a fantastic old-school RPG with shiploads of deep side quests. Its flaws are easily overlooked when compared to the wonderful worldbuilding Obsidian has treated us to.
Pillars of Eternity II could've been brilliant were it more focused. It has a lot of good ingredients—scraps of interesting narrative, clever characterizations, a complex faction system, and pirate-themed spins on the RPG tropes of yore. The game's got so much unfulfilled promise that, even though I think it's a plenty enjoyable game on the whole, I can't help but feel disappointed by it.
Pillars of Eternity 2: Deadfire is a broad, deep, and excellent RPG in the tradition of Baldur's Gate. And it has pirates. Buy it.
Scored Reviews
Pillars of Eternity 2: Deadfire is as close to the perfect RPG as one can get. The fantastic setting, grand story, exceptional writing and voice acting, engaging combat all coalesce into an exemplar of its kind. This is the game that sets the bar. This is the game that needs to be aspired to.
Obsidian has gifted the already cluttered RPG genre with an excellent title that offers hundreds of hours worth of gameplay. Puzzles, ship combat, side quests, exploration, and other activities keep you occupied along the way.
If you're looking for the next, and perhaps greatest, grand cRPG; if you're aching for an epic single player adventure; if you're seeking a setting outside the norm; if you're hoping for a story that takes you in and hangs on, Pillars of Eternity II: Deadfire fills the bill. It is something special, something you'll want to play again and again and is a game that will undoubtedly be remembered as one of the genre's best.
Pillars of Eternity 2: Deadfire has taken Obsidian's formula of success and brought it to the new heights.
Pillars of Eternity II: Deadfire mixes some classic epicness from Baldur's Gate 2 with freedom of exploration from Fallout, and still offers a modern and surprising story and a great set of characters. Pretty much every element of the game has been improved. All hail the new king of classic RPGs!
Review in Polish | Read full review
Pillars of Eternity 2 is an excellent CRPG that improves upon the original in every single aspect, as well as creating the best naval combat minigame in the history of gaming. Combine that with the huge world, 100 hour quest, supreme non-linearity, and immense replay value afforded by the deep character creation and you have the one game you shouldn't be allowed to miss this year.
Pillars of Eternity II is Obsidian's new masterpiece. It is outstanding and it also features improvements that could mean a lot for the pure RPG for next years. An amazing universe with an exquisite gameplay make this game one of the best of this year so far.
Review in Spanish | Read full review
Pillars of Eternity 2: Deadfire is a perfect sequel. Interesting story, complex character progression system and tons of things to discover transalte into hours and hours of pure fun.
Review in Polish | Read full review
A nearly perfect adventure, taking the best from years of RPG experience and creating a massive game with loads to do.
Pillars of Eternity II: Deadfire is a sequel that surpasses the original in nearly every way, and is an RPG that should not be missed.
Pillars of Eternity, for me, is the best D&D series there never was.
Overall, Pillars of Eternity II: Deadfire feels like the game of my dreams.
Plus, simply sailing around listening to your crew sing sea shanties whilst you track down rogue pirates is something we've always wanted to do in a grand adventure like this.
Alongside from its setting, Pillars of Eternity II improves in almost every way upon the already celebrated Pillars I, from the obvious, such as improved graphics and increased voiceovers, to the details, like better stealth mechanics and a new day-night system.
Pillars of Eternity II: Deadfire puts the gods, warts and all, at the forefront of the story, and at this point, it shines when it focuses on your interactions with these powerful-but-flawed beings.
Deadfire is the first time Obsidian gets to work in a sequel of it's own and that's makes the game special. The open world approach to it's narrative is really interesting. They managed to build a new game looking foward the future of the studio but not forgetting the past of the genre.
Review in Spanish | Read full review
Pillars of Eternity 2: Deadfire is an Amazing great RPG with lots of good mechanism, rich story, great team work and deep gameplay elements. It has seen many improvement over the first game in every directions and we are definitely want to see more from Poe series in the future. With all this positive points, Pillars of Eternity 2 still isn't the game for every one and because of its isometric view some may find this game boring. If you are OK with isometric games and if you are a fan of deep RPGs, Pillars of Eternity 2: Deadfire is one of the best choices for you that definitely worth your time and money and it's one of the best games in action RPG genre.
Review in Persian | Read full review
In a market flooded with first and third-person-shooters, games that play it safe and game after game after game that could be a reskinned version of the one before, Pillars of Eternity 2 is a big, beautiful breath of fresh air.
Game News Plus
9.1 / 10.0
Pillars of Eternity II: Deadfire offers a unique experience with classic RPG mechanics, modern visuals - sounds and a new ship management feature. As a sequel, it both keeps the best parts of its predecessor and manages to stay unique on its own. This game is a must for RPG fans and it deserves every single penny you pay for it.
Pillars of Eternity II: Deadfire is an exceptional roleplaying experience that truly lets you forge your own path in a rich, multilayered, grog-soaked world. Occasionally the game is just a touch too retro for its own good, but, for the most part, Pillars of Eternity II proves Obsidian has set the right course. It's clear sailing ahead for the classic computer RPG.
With clever gameplay refinements, strong mechanics, and a smartly integrated narrative, Pillars of Eternity II: Deadfire is one of the genre's best.
It's always refreshing to see an RPG try something new. Pillars of Eternity 2: Deadfire deftly blends classic RPG fundamentals with more intriguing pirate-themed gameplay. If you enjoy RPGs, you'll almost certainly want to give Deadfire a shot.
Pillars of Eternity 2: Deadfire is a sequel that plays all of its cards right. It's an enthralling adventure, both for veterans and newcomers, bringing a fantastical world to life that you'll want to explore again and again.
Pillars of Eternity II: Deadfire is a game about choices and epic story lines, grounding itself with the unique characters you find and the fact that your ultimate aim is to get the rest of your soul back. Having such a personal quest at the centre of such a fantastical plot really keeps you invested in both the people and the world, whether you're carrying on your adventure from the first game or starting afresh. Either way there's a genuinely likeable cast, both personal and global stories and the pleasure of mastering all its systems. A genuine joy of a game and one which is simultaneously approachable and impossibly deep, Deadfire is a fantastic sequel and one which you will be thinking even when you are away from its world.
Pillars of Eternity II: Deadfire is a worthy successor to the original.
The original Pillars of Eternity is a tough act to follow, but Obsidian has knocked it out of the park once again.
We're starting to run long here, and that's because Pillars of Eternity II: Deadfire is such a huge game that one review that wants to remain reasonably sized in terms of word length is going to have a hard time getting to everything. So let me leave you with this: Pillars of Eternity II: Deadfire rises well above the typical role-playing fair, and will provide an unforgettable experience for those that are willing to put the time to fully embrace what it is offering.
It's an extraordinary game. One that you'll feel faintly lost in at first, while its many systems permeate your grey matter. But all the while its story unfolds and reveals new wrinkles, the sense of place growing deeper.
Pillars of Eternity II: Deadfire is a lesson in sequel creation. Instead of making some slight alterations, or simply changing the setting, this smooths all the rough edges of the first game, while keeping the plot, writing, and role-playing aspect in top form. While not without flaws, and although the seafaring business is not equally awesome as the rest of the experience, this is, without a single doubt one of the best Dungeons & Dragons-inspired RPGs of the year. Kudos in spades Obsidian Entertainment!
More than just a faithful recreation of an old subgenre, its greatest strength lies in its impeccable writing.
Pillars Of Eternity 2: Deadfire is a truly superb RPG from the masters of the genre. Unlike, say, a Bethesda game or even The Witcher 3, this isn't an accessible entry point for curious newcomers; it's a game that demands the kind of attention and commitment that is rare in 2018. However, if you have that mindset – and the time – then you'll discover one of the deepest, densest and most rewarding Role Playing Games in years.
Cultured Vultures
9 / 10.0
Pillars of Eternity II: Deadfire is an excellent game with a few minor hiccups that keep it from being perfect.
brilliant storytelling, character development, places to see and many ways in order to do what is needed, there's no shortage of adventure to be had. Pillars of Eternity 2: Deadfire is a fantastic experience and honestly should be a must for any admirers or lovers of the RPG genre.
Tasked with pursuing a rogue god you will find yourself exploring land and sea in order to fulfill your destiny.
Pillars of Eternity II: Deadfire is hands down one of the best RPGs launched in the last couple of years, but I'm more anxious to learn when we'll get PoE III since the ending of Deadfire is awesome in a painful way.
Old Man Mordaith
9 / 10.0
Anyone familiar with my reviews knows my greatest fear for some sequels is messing up a perfectly fine system just because they can. Innovation for its own sake is not only dumb, but it's also dangerous. It can be a series murderer. However, I am happy to report that Deadfire doesn't fall prey to that scenario. It leans hard on its old mechanics, the CRPG roots that made it great and refines qualms about the previous iteration of the game.
Amusing voyage full of surprises. One of the best RPG of this year and another masterpiece from Obsidian.
Review in Slovak | Read full review
While a bit front-loaded with lore, Pillars of Eternity 2 offers a more intricate and charming story, characters and vastly improved combat encounters. Less of a homage to the "Infinity Engine" era and more of Obisidian's vision on RPGs and storytelling.
Review in Portuguese | Read full review
If you enjoyed the first Pillars of Eternity, then there's a damn good chance you'll mine even more enjoyment out of the sequel. Quite a few of the smaller niggling issues that hampered the first game have been addressed, and you're certainly not as burdened to remember nearly as much history to understand character motivations. If you're new to the franchise, you'll be a bit under pressure to read up on characters and events from the first game, but it caters to new players (or those who have simply forgotten everything from the first game) well enough, is one of the best story-telling experiences I've had in recent memory, and is otherwise bloody fantastic isometric RPG.
Carefully crafted and complex, but never offensively so, Pillars of Eternity 2: Deadfire will satisfy even the most demanding role-playing gamer.
Pillars of Eternity II is incredible. From the layered-but-accessible combat, to the deep conversation systems and sailing around a world packed with quests and events; there are few RPGs out there that can stand up to this giant.
An excellent conclusion to an already excellent game. Ship navigation and above all ship combat are lackluster, but the general experience is fun and engrossing. Overall one of the best RPGs out there.
Review in Italian | Read full review
A richly imagined seafaring setting lends novelty to what is ultimately an evolved iteration of very traditional isometric RPG fun
Pillars of Eternity II isn't a perfect RPG, but it comes pretty darn close. The game's highly refined dialogue, combat, exploration, and character development systems come together in a way that just feels right for fans of old-school isometric RPG's. Making a sequel to one of the best roleplaying games in recent memory was a tall order to be sure, but Obsidian definitely cleared the bar and then some.
A massive, bountiful RPG with richly descriptive writing, a well-realised setting, and deep tactical combat.
The Games Machine
8.7 / 10.0
The tribute to the great Western RPGs of the first chapter was not easy to overcome: Obsidian has deservedly tried to change the cards on the table, bringing new contents not always perfect with a great overall result.
Review in Italian | Read full review
VGProfessional
8.5 / 10.0
Pillars of Eternity II: Deadfire manages to tell an exciting tale in a totally new setting, and it takes some fun new chances with the fantasy genre. It learns many lessons from its predecessors, and it's more accessible to casual fans, but this is still very much a cRPG, so expect to bust out your reading glasses.
Pillars of Eternity 2: Deadfire is a diligent sequel that does a lot of things right. But it is just not enough to reach the level of Divinity: Original Sin 2.
Review in Russian | Read full review
Pillars of Eternity II Deadfire plays it safem just like its predecessor, and it has a worst main storyline, but it compensates with a greater and richer world to explore, better friendly AI, a refined combat system and much better sidequests. in short, a must buy for fans of cRPGs.
Review in Italian | Read full review
In Pillars of Eternity 2 : Dreadfire always choose with patience because you might regret the consequences. These Amazing RPG elements combined with a challenging combat system, though too hard during the earlier experience, makes for an amazing experience that is flawed due to technical issues.
Review in Persian | Read full review
Chalgyr's Game Room
8.5 / 10.0
Pillars of Eternity 2 is one of the best RPGs I've gotten to play since Baldur's Gate 2. I considered ending my review right there, since it's all you need to know. If you haven't played it, what are you waiting for?
A swaggering sequel that reaches for the future as it embraces the past, Pillars of Eternity II: Deadfire is a unique and ambivalent roleplaying experience.
Pillars of Eternity II: Deadfire is the right choice for everyone who likes classic isometric RPGs. And if you've played the first game, the experience becomes even more powerful.
Review in Czech | Read full review
Pillars of Eternity 2: Deadfire improves upon the Pillars of Eternity formula in nearly every way, creating an RPG loaded with both strong combat and important, character-defining choices that frequently have an impact on your numerous and deep side-story adventures.
Ship management and naval battles fit neatly into the dark fantasy setting of Pillars of Eternity 2: Deadfire.
The fights are less fearsome, but if you liked Baldur's Gate or Planescape: Torment you'll enjoy this retro role-playing game
Pillars of Eternity II: Deadfire is an extraordinary RPG experience with tons of content and a very unique setting that only falls short of greatness due to some technical and pacing issues.
Review in Persian | Read full review
Pillars of Eternity II: Deadfire is not for everyone. The web of intertwining features and mechanics are as deep as they are complicated, but for those looking for more from their RPGs – more character, more wonder, more life – Pillars of Eternity II: Deadfire is a fantastic homage to the true roots of the RPG genre.
Another unapologetically old school role-player that gives its audience exactly what it wants and adds some fun pirate-themed exploration for everyone.
Polished and well-written but a little too familiar, Deadfire offers dozens of hours of RPG fun in a beloved setting.
Pillars of Eternity 2 is a very good sequel. It doesn't takes a lot of risks (muddled combat system, not enough serendipity in quests), but is still is an awesome lesson of how build a good RPG, with a fantastic writing and a beautiful art direction.
Review in French | Read full review
Pillars of Eternity II Deadfire is great addition to what was already a great game, with a few setbacks that could hinder your experience but its still one of the best CRPG games nonetheless.
Review in Arabic | Read full review
All in all, Pillars of Eternity 2: Deadfire has delivered. Comparing it to the previous game, this sequel has better visuals, in-depth mechanics, and great story-telling. This sequel emphasized on immersion, exploration and shaping the world through decision making. It gave fans what they asked for and more and gives non-fans a chance to explore the cinematic story. It took nostalgia and dressed it up to something fancy. If you have the time and money, take a step back and save Eora. Buy this game.
It's a much bigger, more polished game than the first in almost every way and a worthy successor.
Invision Community
8 / 10
Overall Pillars of Eternity II: Deadfire gets an 8/10, it prides itself on thousands of lines of descriptions that add into the theatre of the mind effect it has going on. The combat is tight, difficult at times but allows for in-depth customisation with AI control.
With its expansive world, fantastic production, and strategic combat, Pillars of Eternity II: Deadfire is a marvelous take on roleplaying games that will captivate anyone interested in the genre.
New Game Network
76 / 100
Pillars of Eternity II: Deadfire is a fine game that makes it easy to get swept away in the pirate life and the thrills of ship combat. It's a solid evolution on the first outing, though the technical flaws are significant and ultimately detract from the overall impression.
Great story and deep characterization, gorgeous graphics and flawless sound design all make the Pillars of Eternity II: Deadfire one of the finest CRPGs. However, slow-paced gameplay and confusing combat somehow is a pain in the neck.
Review in Persian | Read full review
Pillars Of Eternity II: Deadfire is a gorgeous, meaty beast undermined by a short main quest and unimpressive naval combat.
If one was to ignore the technical issues and consider it in isolation, Pillars of Eternity 2 could be deemed a solid game.
The learning curve is a bit steep, the seas may get choppy, and the deck can get rather slippery, but with some patience and perseverance, even the greenest sailor can go from lowly deckhand to decorated captain.