A chaos of details and features come together for one of the Switch's most generous - and exhilarating - games.
Super Smash Bros. Ultimate is Smash Bros. done right, and done bigger than ever before.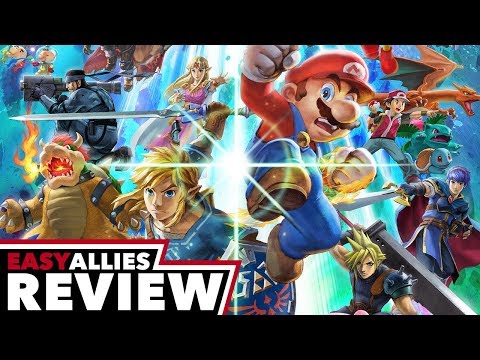 Super Smash Bros. Ultimate takes characters we've played for decades and remasters them into a robust, fantastically enjoyable package
Easily the best Smash Bros. ever made, with a fantastic new story campaign and a near infinite range of characters and options for multiplayer.
A wealth of tweaks and new additions like the World of Light campaign help to keep Ultimate from feeling like a greatest-hits retread
Ultimate is a comprehensive, considered, and charming package that refines and builds on Smash's already strong and enduring fighting system.
Super Smash Bros. Ultimate's gameplay is so snappy and fluid, its characters so rewarding in their variety, that it feels destined to dominate living rooms once again.
It's difficult to imagine the type of gamer for whom Smash Ultimate has no appeal. This is a big game, and with the fat skimmed off, a remarkable one. Its core attraction—fighting on a platform—is as polished and brilliant and sharp as ever, its fighters the most unique and deep.
Super Smash Bros. Ultimate feels like a mic drop for the series. It packs in almost every conceivable character and stage, plus a sizable single-player mode. Spirits don't quite land, but the battles feel better than ever. It feels like Super Smash Bros. Ultimate will be a Switch party staple for a long time to come.
It's the best single-player Smash to date, and still retains the fantastic couch co-op the series is known for, but only time will tell if online functionality catches up to the rest of the game.
I've used phrases that evoke the monumental achievement that is Super Smash Bros. Ultimate a few times in this review and I can assure you it's not hyperbolic. Despite that a lot of the old content isn't as hard-hitting the second, third, fourth, or even fifth time around, the fact that it's all here, and in a manageable file size, is more than enough. After this (and Geno/Waluigi DLC) Sakurai can rest easy.
Smash Bros. has often felt a bit like it was trying to do too much and while it has always been a fun series, the disparity between the fighting game and the party game didn't always mesh well. Ultimate is the perfect fusion of the two styles.
Super Smash Bros. Ultimate manages to meet every single expectation that was place upon it. The addition of the marvelous adventure mode, the immense amount of playable characters as well as spirits and to top all of that, magnificent visuals, audio and gameplay. Super Smash Bros. Ultimate is not only one of the best games to be found on Nintendo Switch, but it is also one of the greatest games ever made.
Review in Spanish | Read full review
Super Smash Bros Ultimate is one of the most complete fighting games thanks to a lot of game modes and content. In addition, it pays tribute to video games without equal, which makes it transcend and shine. An essential game for Nintendo Switch owners or lovers of video games in general.
Review in Spanish | Read full review
Smash packages don't come any better than this. It may not be perfect, but it sure feels Ultimate.
Gamers want an essential, badass combat experience no matter which characters square off. Even this early, it's settled: Smash Ultimate nails this expectation. Thus, it is the best fighting-game package to ever land on a Nintendo console.
Super Smash Bros. Ultimate does indeed live up to its name. It's a brilliant game today, as it launches, but tellingly it also leaves me incredibly excited about the future.
Super Smash Bros. Ultimate is bigger and, for the most part, better than ever. It gives to the audience one of the best experiences ever for single player in a fighting game, but makes a few bad choices for the Online Mode that steals from the players the freedom of choice.
Review in Italian | Read full review
Nintendo Switch has made its year historic with this video game. Ultimate is not a Super Smash Bros Deluxe, it is the work of 20 years of success and a new way of revolutionary understanding all the new ideas, such as the Spirits or the new and long singleplayer Adventure mode. Sakurai hits the fighting games. SSB Ultimate is essential.
Review in Spanish | Read full review