Percentile Rank
Dirt Rally 2.0 is ranked in the 90th percentile of games scored on OpenCritic.
Rating Summary
Based on 77 critic reviews
OpenCritic Rating
Based on 77 critic reviews
Score Distribution
Unscored Reviews
Player2.net.au
A or higher
It's pure joy for enthusiasts, offering a detailed and engaging driving experience to those who are after the sort of thing that hasn't been on offer since the days of Richard Burns Rally.
A worthy follow-up to a modern classic, Dirt Rally 2.0 offers marked improvements and a driving experience like no other.
Overall, Dirt Rally 2.0 can lead to a sense of accomplishment that's hard to find these days in gaming. If that type of challenge is appealing to you, then having Dirt Rally 2.0 in your rotation is an absolute must.
Newcomers might surprise themselves how much they really can handle in a tough-as-nails driving sim
Scored Reviews
For me, Dirt Rally 2.0 is the best racing simulator of this generation. If you spend time training and learning and more than anything be patient, You'll embrace Dirt Rally 2.0 and love it in every possible sense
Review in Persian | Read full review
DiRT Rally 2.0 is one of the best and rewarding racing games that this console generation has to offer
The Rally Cup goes back to Codemasters - thanks to a realistic atmosphere, a nice look and a crisp simulation claim.
Review in German | Read full review
DiRT Rally 2.0 does nothing but improve the reputation of the purest, modern rally series out there. Codemasters' flagship sequel retains the same uncompromising sense of difficulty and challenge as seen in the original, but achieves it with a new-found sense of finesse and variety. The expanded and evolved Rallycross experience offers something equally visceral, but in a more quick-fire format and with exciting contact-based racing. This is an excellent counter-weight to the more gruelling and linear experience found in Rally events, and it may serve as the better jumping-in point for lesser skilled players. Overall, Codemasters have outdone themselves with one of the greatest rally packages ever made. Whether it quite out-manoeuvres Richard Burns Rally where it counts, the physics and handling through the wheel, is a matter of opinion, but it certainty hits that mark. One thing is for sure, rally fans everywhere must play DiRT Rally 2.0!
DiRT Rally 2.0 is still an absolute reference of Rallysport
Review in German | Read full review
DiRT Rally 2.0 is the best opportunity to join the world of hardcore rally simulators. The project maintained the advantages of the first game, improving the graphics and physical model, adding more customize tools and new modes. In addition, the game has become a bit friendlier for beginners.
Review in Russian | Read full review
Following on from its predecessor, DiRT Rally 2.0 is the pinnacle of rally on PlayStation 4. The simulation handling is brutal, but a lot of fun to learn and brilliantly satisfying to conquer. The raw driving experience is highly intense as you travel at insane speeds, always verging on disaster. While it's missing some of the more casual-friendly features of DiRT 4, the suite of modes and options will keep any rally fan going for a long time. Even if the sim label puts you off, we'd encourage you to take this for a test drive; it's easily one of the most thrilling racing games in recent years.
Dirt Rally 2.0 is a fantastic accomplishment from Codemasters, a studio that continues to prove itself time and time again as a driving force of the racing genre.
DiRT Rally 2.0 is a master-class in how to do the rally genre justice. While it certainly presents a steep learning curve, rally enthusiasts will find a lot to love in Codemasters' latest entry in the highly-revered DiRT franchise.
DiRT Rally 2.0 is not an easy game to play, but once you get a hang of it, it will suck you in and challenge you to be better and improve all the time. The game is very well made and offers quite a bit in terms of gameplay and challenge. It is the gold standard for Rally simulation.
Just as Codemaster's competitors were starting to creep towards the digital rallying crown, Dirt Rally 2.0 puts them firmly back in the rear-view mirror. Utterly convincing, enthralling and punishing, Dirt Rally 2 is an exquisite racing sim.
Builds on what's good about its unapologetically hardcore predecessor and adds a full-featured Rallycross career mode for those who prefer to trade paint in their racing.Stirling Matheson
A worthy sequel to the DiRT Rally franchise, that updates, upgrades and uplifts most aspects of the original. Still a few little niggles that could be better, but hopefully the paid content strategy can be converted into ongoing support and updates for the title.
Improving on its predecessor in every way — from better steering wheel support, to more interesting and challenging scenarios — Very few games can create such sense of dread and excitement as DiRT Rally 2.0. A must have for Rally fans.
Review in Portuguese | Read full review
There are very few games I would classify as a must buy but DiRT Rally 2.0 absolutely is one of them.
Wolf's Gaming Blog
4.5 / 5.0
It's a tough game, often unforgiving and demanding of your time. Once you begin to understand how to shift those rally cars around, though, DiRT 2.0 becomes something special. I love this game. Love, love, love it. It easily gets a recommendation from me, and while 4.5 is perhaps too high a score considering the lack of snow stages and VR support out of the box I just can't help but grin like an idiot when I'm playing
At the very least, the game's epic trials will make you respect the practitioners of this most insane of sports.
Although it feels a little short on content at times, DiRT Rally 2.0 provides a gorgeous, rewarding, and punishing hardcore experience for dedicated racing enthusiasts with the skills and patience to handle the pressure.
It feels as satisfying as ever to drive and general improvements to the original's underwhelming quantity of content make for a very solid experience to delve into.
I sort of have to criticise, you know? It's the job. Truth is, though, I've really enjoyed every minute I've spent with Dirt Rally 2.0, just as I did with 1.0 before it. The handling is gorgeous, the routes are truly beautiful to look at, and the management is ...manageable. The cars all have tons of individual character, the rallycross feels scrappy and frenetic and everything just comes together wonderfully. Codemasters, eh? They really have the hang of this thing.
DiRT Rally 2.0 is a great experience for those of you loving to drive rally cars, and despite the lack of variety in game modes, Codemasters has managed to create a engaging driving model that lets you feel even the smallest difference between any car included in the game. Maybe it's time for the British team to say goodbye to its Ego Engine and create a brand new one to improve even more the driving experience and raise the bar even further.
Review in Italian | Read full review
Also in version 2.0, DiRT Rally stays a brilliant hardcore-simulation with deep-rooted mechanics, an enormous grade of detail and a steep motivation curve without nearly no mistakes after all. Fans of rally and friends of racing games should put this title on their list.
Review in German | Read full review
DiRT Rally 2.0 is a worthy successor to DiRT Rally. The driving/car physics, which feel as sophisticated as anything else out there, are only slightly hindered by mediocre force feedback. The tracks and surrounding countryside are gorgeous in their own right; the environmental lighting and shadows serve to make them stunning at times. The addition of Rallycross serves to make DiRT Rally 2.0 two great simulations in one package.
The Games Machine
8.8 / 10.0
Codemasters has succeeded in perfecting an already spectacular driving model, making it more reactive and enjoyable, launching DiRT Rally 2.0 towards the throne of the best rally game ever. Launching, because at day one, without events on the snow, the title is missing a fundamental piece. Apart from that, this is now the most refined rally simulator on the market.
Review in Italian | Read full review
Codemasters delivers another captivating rally title that will have you swearing in fear and delight
For all fans of the discipline in question and racing games in general, this Dirt Rally 2.0 is really an almost obligatory stop.
Review in Italian | Read full review
DiRT Rally 2.0 is the new master of rally simulation, despite of the unimpressive career mode and the low number and variety of rally locations.
Review in Italian | Read full review
Simply the best rally sim around, building on its predecessor's already fine foundations.
If you're looking for a real rally simulator experience, with good control and attention to detail, DiRT Rally 2.0 it's your game. It gives players freedom to play and progress the way they want and, even if you'll miss some features from previous games, if offers an even better control and a superior recreation of the rally races atmosphere.
Review in Spanish | Read full review
Dirt Rally 2.0 is as tricky to tame as its predecessor but doing so is as satisfying as ever.
DiRT Rally 2.0 far surpasses other rally titles and other games that feature, though don't specialise in rallying. With an extensively detailed roster of cars, where each of them feels, handles and reacts differently, on tracks that actively degrade through constant use, changing the lines you'll have to take, this is a game that will keep you thinking. Best of all, unlike its prequel (to an extent) and other racing sims, it's accessible thanks to a bevy of assists that you can change to suit your needs. A game that only features a few downsides, the primary one being a shallow career mode and some minor bugs here and there. All things considered, DiRT Rally 2.0 is the premier rally experience you could hope to have.
Despite a bare-bones multiplayer, DiRT Rally 2.0 is for hard-core enthusiasts of the sport. It is an unforgiving simulator that delivers a racing experience that, though highly difficult to master, is satisfying and requires utmost concentration and engagement.
DiRT Rally 2.0 is once again a great rally game, aiming to please hardcore rally fans, but even other gamers that aren't afraid of dust won't be disappointed.
Review in Czech | Read full review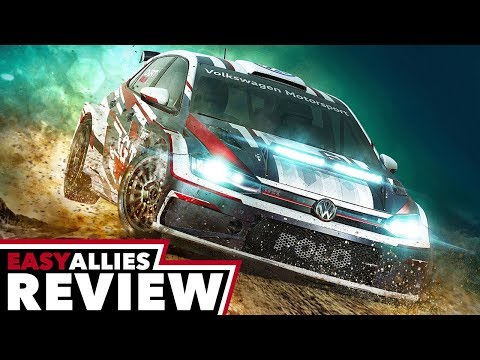 Before you buy Dirt Rally 2.0, ask yourself: do you have the faith to conquer this tough game? If not, this game might not suit you. It's only prepared for those who love challenges.
Review in Chinese | Read full review
Codemasters are back with one of the best rally games in their history. It's a shame that a game this good lacks some important locations around the world.
Review in Slovak | Read full review
Dirt Rally 2.0 is a challenging high quality racing game and one of the best in this genre. Everything in this game is well placed and feel right. despite of some technical and graphics issues, i simply must say that if you are a fan of racing genre, you should definitely experience Dirt Rally 2.0 and challenge your driving skills.
Review in Persian | Read full review
DiRT Rally 2.0 is a solid improvement for the rally sim made in Codemasters. The physics and the driving model are top notch, even driving with a joypad, while the lack of a couple of locations and the general aging of the Ego Engine limit the game scope.
Review in Italian | Read full review
DiRT Rally 2.0 really makes us feel in a rally car, both for the sound for the realism in the reproduction of the movements of the steering wheel and for the grip and heaviness of the cars, but with some changes it makes approach even the less experienced with only controller.
Review in Italian | Read full review
Dirt Rally 2.0 is for hardcore fans of rally racing who demand the most authentic experience from a video game that dares to emulate their sport. That might sound like a hefty endorsement, and it is mostly, but any fan looking for a more casual experience might elect to pull over and exit the vehicle.
An excellent racing game that is better than the original one... but not bigger.
Review in Spanish | Read full review
Dirt Rally 2.0 might not be a popular game because of its high difficulty, but without a doubt it's one of the best racing simulator games in history; if the control scheme was laid out correctly it could have been perfect. That being said I suggest this game to all the fans of racing genre and ] know that they will like it. Dirt Rally 2.0 requires lots of patience from you, but be sure that its lovely gameplay and even its fantastic sound design is totally worth it.
Review in Persian | Read full review
Dirt Rally 2.0 not only looks incredible, but it feels like you are behind the wheel of a real rally car. If rally racing is your thing, then look no further than this game.
Codemasters is back at it again. After an almost experiment in a dedicated simulation game, DiRT Rally 2.0 stands on its own as a great spin-off game from the more arcade DiRT series. Every turn feels dangerous and every second counts, DiRT Rally 2.0 is authentic and visceral, but only for the most enthusiastic players.
Review in Portuguese | Read full review
Honestly, I'm quite torn by DiRT Rally 2.0. Its improved visuals and handling undoubtedly make it a better game to play than DiRT Rally, but in terms of content, it leaves me wanting. Sequels like this are meant to be bigger and better, but DiRT Rally 2.0 feels about the same size but better, and with less track variety as standard. Regardless, for devout rally fans it's still pretty much essential.
If it's realism you're after, DiRT Rally 2.0 is up there with the best rally sims out there. It's just let down a bit by some poor Rallycross AI and intrusive use of its online features, even in single player modes.
Another dose of rallying heaven and hell, DiRT Rally 2.0 is hard-as-nails, uncompromising and bloody brilliant.
An unapologetically hardcore sequel that sacrifices accessibility to appease fans of Codemasters' fledgling racing sim series.
DiRT Rally 2 is a gorgeous, incredibly challenging racing game that offers rally purists the hardcore racing experience they have waited for.
Codemasters shows once again that they know how to make great racing games with DiRT Rally 2.0.
So Dirt Rally 2.0 is tipped as the most authentic off-road experience out there, and that claim definitely has some truth, with the new aspects of the game building on the previous games brilliant racing experience we might just have the best rally game since Colin McRae Rally
Dirt Rally 2.0 is as good as it is demanding. He can satisfy his user on the condition that he is well aware that it will have to drive and drive again to get to enjoy time and grazing the obstacles of a very narrow road. This is what best summarizes Drit Rally 2.0: A narrow, exhilarating and unforgiving road.
Review in French | Read full review
DiRT Rally 2.0 has you living in the space between control and the edge of it, which is right where you want to be.
PlayStation Universe
8 / 10.0
As accurate a representation of rally driving as you'll get on this generation of consoles, replete with a punishing learning curve and zero tutorials. Aside from the unrewarding Rallycross department, Dirt Rally 2.0 delivers an impassive and accomplished high speed rallying experience.
DiRT Rally 2.0 aims for professional racing players, and gives them everything they want. DiRT 2.0's gameplay is ultra realistic and Codemasters paid a good attention to all the details. All that said, it seems that Codemasters is running out of ideas and while DiRT 2.0 is a solid racing game, there is not much that we haven't already saw in previous entries in the series.
Review in Persian | Read full review
DiRT Rally 2.0 is a simulator designed for the most hardcore off-road racing fans, and offers one of the most challenging rallying experiences I've ever played. Casual racing fans may shy away at this title, but if you want pure, uncut racing simulation straight into your veins, this is the game for you.
PlayStation LifeStyle
8 / 10.0
DiRT Rally 2.0 features some positively exhilarating racing. While there aren't a ton of different modes to choose from this time around, there are plenty of courses to make up for it. The lack of real-time multiplayer may dissuade some from purchasing it, as they can't directly compete with friends, but the asynchronous challenge events provide plenty of real-world competition on a daily and weekly basis. As usual, Codemasters knows rally racing like no one else.
DiRT Rally 2.0 is a big win for the largely overlooked rally racing simulator genre.
DiRT Rally 2.0 builds upon the original and adds new content to improve the rally simulation experience, but it also continues to repeat the sins of the past.
Dirt Rally 2.0 isn't afraid to throw you in at the deep end with its sophisticated rally action, giving you a lot to think about and a steep learning curve to conquer. Hurtling along the beautiful rally stages or fighting your rivals in a Rally Cross final is exhilarating. Even with some poorly structured content, Dirt Rally 2.0 is still the best simulation of the sport you'll find.
Thankfully the Rallycross events, while fairly long due to the extensive qualifying rounds, offer an almost separate game to those of us who prefer to fling their rally-spec cars around a tight track, lap after lap after lap.
Overall, Dirt Rally 2.0, despite being incredibly difficult and at times quite infuriating, I can safely say that I had a positive experience playing this game. Yes, I wasn't the best of players and it took me a fair bit to really start driving somewhat decently on the track.
If you're a racing fan or a rally enthusiast it makes for a great addition to your collection, but don't underestimate the challenge that'll come along with it.
New Game Network
75 / 100
With excellent vehicle handling, DiRT Rally 2.0 finds itself in a strong position. It also has superb visuals and brutal simulation aspects. Apart from AI issues and track repetition, it should please most rally fans.
Dirt Rally 2.0 is a very competent rally simulator when viewed in isolation. However, when compared to its predecessor and its vastly superior force feedback implementation it loses its allure.
The sharp difficulty and rough edges of Dirt Rally 2.0 give way to a rewarding racing model, with a surfeit of meaningful options for the obsessed.
Although it may be enjoyable for the dedicated rally fan, the current lack of content may not be enough to keep the casual racer playing for more than several hours.
Dirt Rally 2.0 is a great racing game plagued by online connectivity issues and some punishing design choices that keep it from being accessible.
If you're a diehard fan of the Dirt series, or relish a rallying challenge, this is the game for you. Casual racers will find enjoyment here with a little patience but will probably enjoy something that can be picked up a little easier.
DiRT Rally 2.0 might be the best-feeling racer Codemasters has ever produced, but it most definitely is not the best iteration of this long-running series.