Percentile Rank
Wargroove is ranked in the 90th percentile of games scored on OpenCritic.
Rating Summary
Based on 84 critic reviews
OpenCritic Rating
Based on 84 critic reviews
Score Distribution
Unscored Reviews
So, Wargroove. It's a fantasy themed strategy RPG, built around commanding armies and claiming territory in a style more like RTSes than, say, Final Fantasy Tactics. It's a grid-based game with unit manufacturing, income, and objectives. Mechanically, how it works is pretty simple; You've got basically three kinds of buildings. Your stronghold, which if destroyed you lose the game; Unit-producing buildings; And villages, which produce money. At the start of a given match, you have a tiny little set of basics, just enough to start getting your first buildings locked down. Unlike the RTS comparison, here the buildings are all fixed, and you take a unit to them and capture them for your own use.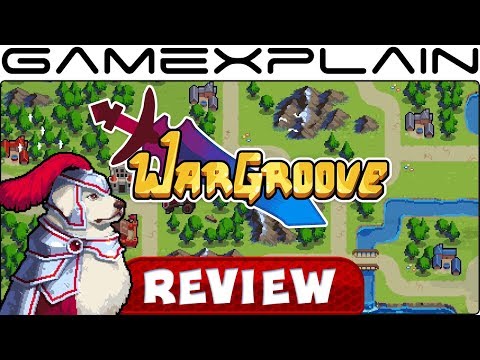 Eurogamer
No Recommendation / Blank
No Recommendation / Blank
Jan 30, 2019
Care, generosity and love have gone into this attempt to recreate some legendary tactics games, but is it enough?
Rock, Paper, Shotgun
Unscored
Scored Reviews
NintendoWorldReport
9.5 / 10.0
Wargroove offers a robust and content-laden package that turn-based strategy fans will adore.
Wargroove is one of the best games I've played on the Switch and the perfect tactical game to get deep into while waiting for Fire Emblem Three Houses.
Wargroove offers several ways to get your turn-based strategy fix, whether it's playing through an hours-long campaign, creating your own scenarios, or playing online
Overall if you like a strategy game I can't fail to recommend this, it is full of character and fun to play without being terribly difficult, but the game editor is amazing for giving you value for money. I thoroughly recommend this game.
Wargroove is one of the most charming, polished, and enjoyable turn-based strategy games ever made.
Wargroove is the best turn-based strategy RPG that's come out in ages. With a near limitless content pool, a solid single-player campaign, and addictive multiplayer options, it should be around and entertaining its fans for years. Here's hoping it's the start of a new franchise, because I already want more.
Wargroove is the turn-based tactics game you've been waiting for. It looks wonderful and sounds amazing, but it also plays so well. The strategy layer is deep but simple to learn. With several different modes in single player and multiplayer, there is something for both hardcore and newcomers of the genre.
There's a lot to love with Wargroove. I definitely have my qualms with some of the campaign mission design and plot, there is so much here to love. I can't say that it's a completely innovate entry into the genre, but I think it's safe to say that Wargroove is a title that needs to be in every turn-based strategy lover's catalog.
The wait has been worth it; Wargroove is absolutely a must-play title for fans of the genre and just Switch owners in general.
As far as strategy games are concerned on the Switch, Wargroove is one of the best titles you can find on the eShop. Extremely deep and diverse strategy gameplay, ridiculous amounts of replayability, and charming presentation all combine to make this one an easy recommendation to anybody looking for a deep and cerebral experience for their Switch.
From all angles, this is an experience you can truly tailor to do just what you want it to. Chucklefish has packed this game so full with meaningful experiments—and things that are worth seeing.
Wargroove will leave Advance Wars' long-forgotten fans beside themselves with joy.
In a world bereft of a new Advance Wars, Wargroove is a worthy successor. Its fantasy retro strategy stylings mark it out as a wonderful amalgamation of the classic Fire Emblem and Wars games, and while it doesn't revolutionise the genre in the way that the modern Fire Emblem games have it nails the feel of Intelligent System's best games – while standing proudly on its own.
It might lack the quirkiness of Nintendo's own Advance Wars series or the flair of Fire Emblem, but it ends up being one of the more polished strategy games available on the system.
Wargroove is a brilliant turn-based tactics experience featuring memorable characters and lore.
Nintendo Enthusiast
9 / 10.0
Fans of Advance Wars will be right at home with Wargroove, but don't be surprised if you end up becoming an even bigger Wargroove fan.
For those who are eager for a new turn-based tactics game that succeeds at trying something new, or for those who have been keeping an eye on this game like I have over the past few years, Wargroove is immensely satisfying and certainly doesn't seem to be going anywhere any time soon.
If it's your jam – like it is mine – then Wargroove offers literally endless potential. And even if level designing isn't really your thing, it's still a lot of fun to play around with.
With impressive tactical depth, a challenging campaign, an excellent multiplayer suite and an outrageously deep set of tools for user-generated content, Wargroove is one of the games of 2019 and is well worth a look - doubly so for Advance Wars veterans.
The best Advance Wars game never made, whose post-launch update smooths out the rough edges and creates a strategy game that's more accessible and fun than ever.
Wargroove is a majestic contender, if not outright successor, to Advance Wars, that every turn-based strategy fan should play. Beyond it's handsome campaign and likable characters, there's a ton of customisation and content to dig into or create, which makes it a bargain too.
With a complex array of systems and mechanics, Wargroove is a deep and challenging strategy game, full of beautiful and colorful pixel art. The campaign, various multiplayer modes and other single-player options result in a huge content, making it one of the best independent games of the year.
Review in Portuguese | Read full review
PlayStation LifeStyle
9 / 10.0
Wargroove is the sort of game that brings back a feeling people had long forgot. Advance Wars has been absent for years and, while there were similar sorts of games like Tiny Metal, they didn't quite capture the same magic. Wargroove does.
PlayStation Universe
9 / 10.0
Beautiful, bright and bold. Wargroove is a fun, tactical war title with a lot of content. It's deep, rewarding, and never overwhelming. Its art style is something to die for and the presentation is beautiful. It does a great job of explaining everything gradually to the player and drip new content and features. Wargroove is a must-buy for fans of the strategy genre.
Kinglink Reviews
4.5 / 5.0
It is Advance Wars on the PC, it's a Tile based XCOM game, it's a strategy game with NO randomness. There are so many reasons to check out Wargroove, but above all else, it's just really good.
It offers up everything I expected from a game inspired heavily by Advance Wars, plenty of its own sparks of brilliance, and a presentation that made even the longest of conquests easy on the eyes and ears.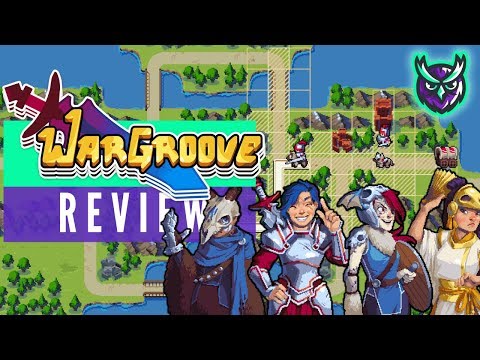 Wargroove is going to become in its own right the spiritual successor of Advance Wars.
Review in Spanish | Read full review
Wargrove is a strategic game made with great passion and considerable knowledge of the subject: a must-have for lovers of the genre, but also an excellent starting point for any newcomers.
Review in Italian | Read full review
I cannot stress how extremely powerful campaign editing tool is in this game, you can make your own story! This is just brilliant, I wore a hat just so I can tip it off to the developer in respect, this game is really great if you think you would like this type of combat system? you will not go wrong here, the sheer amount of content in this should suffice, absolute gem.
Review in Persian | Read full review
Finally here on PS4, Wargroove is one strategic experience you would not wanna miss.
Wargroove is the game fans of tactical role-playing games have been waiting for. The huge amount of content and play modes, solid gameplay almost completely devoid of RNG and excellent presentation make it a game that no fan of the genre should pass on.
Wargroove is a deeply engaging strategy game that has the potential to continue to thrive and develop for years to come with a dedicated playerbase of creators
Visually charming, deliciously deep and packed with extra content, Wargroove is a strategy experience that works comfortably at home or on the move.
Wargroove's brain-teasing tactics and impressive level editor make it the Advance Wars successor fans have been waiting for.
Wargroove might be the least original game I've played in a long time, but it offers fans of the Advance Wars series something we've been lacking for a while. Thankfully, Wargroove does add enough subtle variations on Advance Wars' formula to create its own niche, and multiplayer is much easier than convincing your other friend with a Game Boy Advance to buy their own copy. Even if you're playing alone, there's plenty to see and do, as long as you're willing to learn some hard lessons along the way.
Wargroove is the best kind of strategy game because it has enough depth and complexity to be endlessly compelling in the hands of the best players but is also simple enough to understand for anyone to pick up and enjoy the charming pixel art. With a ton of content and an amazingly detailed level editor, Wargroove is like a love letter to turn-based strategy games.
If you're a fan of the old AW games, you owe it to yourself to pick this one up. Even if you've never played a game in the franchise, I still recommend this one. It's a load of fun!
Wargroove, is an excellent reimagining of Advance Wars, a game that has defined turned-based tactics as we know it. The campaign tells a typical fantasy story we have all heard before, but it serves as a great and fun introduction to Wargroove's deep strategic gameplay. The multiplayer has well-designed maps, and extra modes like the puzzle mode to keep things interesting. The built-in editor is powerful, yet easy to use, and promises endless fresh content in both singleplayer and multiplayer. Although it has some minor issues that could cause inconveniences, they are overshadowed by the game's very enjoyable gameplay.
Review in Persian | Read full review
Geeks Under Grace
8.5 / 10.0
Wargroove takes everything that fans love about Advance Wars and turns it up to 11! With diverse and interesting unit types, a dozen different heroes to unlock, each with their own unique combat abilities, and a well written, lore-filled campaign Wargroove is every strategy fan's dream game. The sprites are gorgeous, the gameplay is addictive, and the music and voice acting are top notch. Fans of Advance Wars don't want to miss out on this one!
Are you looking for an entertaining strategy game with depp combat system? Or a mixture of good storyline and Great multiplayer Mods? What about some Creation in making brand new maps all by yourself? Wargroove is here. One of the best strategy games of eighth generation.
Review in Persian | Read full review
It looks simple, but it's actually deep! Wargroove is without doubt a great strategic role playing game that you should experience.
Review in Arabic | Read full review
Wargroove is a great spiritual successor to the Advance Wars series and one I highly recommend to strategy game fans. It's just a bit of a shame that this version released so long after the others and doesn't have Cross-Play which can make finding online opponents difficult.
Wargroove is a good tactics game, which manages to deliver nearly the same experience as advance wars all bundled with a big content, a massive level editor and diversified missiondesign, but also stays without little exceptions in the comfortzone of his template and struggles with some inconsequences in artwork and sound. Fans of Advance Wars and tacticsgames still are served best here and should definitely pick this one up.
Review in German | Read full review
Wargroove doesn't reinvent the wheel, clearly taking inspiration form the Advance Wars franchise. Still, since the Nintendo IP is absent from the scene since far too long, Chucklefish's last effort find its place in the Switch library.
Review in Italian | Read full review
The Games Machine
8.3 / 10.0
Even without the precision and balance of its source of inspiration, Advance Wars, Wargroove still manages to offer an excellent strategic experience through a wide variety of modes.
Review in Italian | Read full review
Wargroove takes the best of Advance Wars and mix it with some new things that allows it to stand by itself. It is a genuinely fun game with its own personality.
Review in Spanish | Read full review
A well-crafted strategy RPG just like Advance Wars series.
Review in Chinese | Read full review
It took a decade for the vacuum left by the absence of Advance Wars to be filled, not by a new game in the series but by Wargroove, an independent title that has all its qualities. The difference is the tone and look, the fantasy world rather than the military too, but for the rest, Wargroove is the turn-based tactical game that fans of the genre were waiting for, especially on Nintendo Switch obviously.
Review in French | Read full review
Reno Gazette-Journal
8 / 10.0
Wargroove is a fantastic game in the turn-based, tactical RPG genre and a great starting point for anyone who has never played such games before. It also has a high skill ceiling for those who consider themselves experts.
Cultured Vultures
8 / 10.0
Wargroove is the pixelated strategy game for a new generation of commanders. The shallow story doesn't deter from the intricate gameplay that makes Wargroove the perfect indie game for even the finest of tacticians.
Unlike a lot of indie-level titles, Wargroove is truly fully featured. It's got a solid story mode, but that's just the start. The side modes and especially the map editor give you a lot of bang for your buck.
Chucklefish could have easily won the adoration of many by simply trying to make a game that panders to the nostalgic Advance Wars crowd, but they've gone above and beyond to deliver a product that is surprisingly full-featured and absolutely brimming with content. Not only is Wargroove an accomplished turn based strategy title, its suite of creation tools also makes it an infinitely replayable one.
Wargroove takes a classic formula and repurposes it for a more traditional swords-and-sorcery fantasy setting (with battlepups). With its large number of modes and impressive suite of creation tools, it's almost enough to fill the Advance Wars-sized hole in our heart.
There's a lot on offer here, and while it does lose itself in the grind sometimes, the sheer amount of content here more than makes up for the negatives that you'll encounter, especially if you're a fan of the games that inspired it.
Wargroove doesn't shy away from its Advance Wars inspiration, but it proves to be much more than a mere copycat.
Wargroove may wear its influences on its sleeve but it is never in thrall to them — fans of the genre will lap it up like Caesar near a water bowl.
Wargroove enhances the Advance Wars formula with various tweaks and outstanding cross platform modes. User generated content ensures players will be grooving for years to come.
Chances are if you enjoy tactics games, or the games Wargroove so clearly draws inspiration from, you're going to enjoy Wargroove. Mechanical changes to critical hits, and settlements, as well as the puzzle mode, beefy content editor, and overall unit balance make for a fairly enjoyable tactics game. Despite the litany that sets in from the campaign and lack of overall variety in the commanders, there's still a huge amount to love about Wargroove and the many ways to play it round out a tactics game that is easy to recommend.
It may resemble a relic from the Game Boy era, but Wargroove is far more than just another retro game.
Wargroove will undoubtedly please the majority of fans of the genre, but it is not without faults. Hopefully, this will bring life back to the turn-based tactics genre, and take it to new heights.
Wargroove is the Advance Wars game fans have been waiting years for, even with its fantasy trappings.
One of the deepest, most substantial, most polished productions of 2019.
Between the myriad of built-in options – the single player campaign, arcade, and puzzle modes – and the user-generated content that will assuredly continue to stream into the game's library, fans will likely find themselves coming back to Wargroove repeatably to see what new adventures may be in store.
The strengths of Wargroove come from the visuals and the gameplay, relegating the story to second place but that's absolutely no problem for me. In order to get the most out of this game I really had to fall into it and I'm glad I did. There's plenty to love about Wargroove.
Wargroove definitely took a while to grow on me since it starts so slow but once it did, I was very happy with what is has to offer.
The Outerhaven Productions
If you like strategy games, you should without a doubt check out Wargroove. It takes the foundation that Advance Wars set so many years ago and expands upon it in new, exciting ways, topped with gorgeous pixel art and a good amount of charm. There's a ton of content here, and there's no shortage of user-generated content either. Wargroove is an incredibly robust package, and it's one that fans of the genre should not miss.
Brimming character and imagination, Wargroove occasionally loses its groove over long-winded core gameplay.
This fledgling developer-publisher is on the right path to making a nostalgia-based name for itself if it stays this course.
Advance Wars veterans will be right at home in Wargroove, but even everyone else is sure to enjoy the tactical mayhem. However, it wouldn't hurt if the game was a bit faster paced.
Review in Czech | Read full review
Wargroove has the confidence to stick to simple, familiar gameplay with a few twists, rather than try to wow you with its novelty. While its charming graphics might make it look cute, it offers a vicious challenge that gets a bit uneven at times. If you get into its slower pace and high difficulty, it also offers plenty of alternate game modes and custom campaign creation tools to extend the fun.
Wargroove is a faithful update of a classic strategy series and, despite some smart additions, never really achieves more than that. The competence is commendable, and this is a solid game that will keep strategy fans amused for a while.
Wargroove is finally on PS4, and despite launching with practically no fanfare, it's very much worthy of your attention. The pixelated exterior houses surprisingly deep tactical gameplay that's easy to grasp but will soon give your grey matter a workout. With highly customisable difficulty and a vast range of modes to enjoy, this is a decent turn based strategy game that fans of the genre shouldn't pass up -- although we suspect many will have played it to death already.
It's not a game in which every element is effective, especially for those who demand a powerful narrative, but Chucklefish has made something worth investigating for those thinking Nintendo has let Advance Wars sit around without a follow-up for too long.
Wagroove offers too tight and repetitive battles that are no different from each other.
Review in Russian | Read full review
Chucklefish's strategy tribute does nothing worse than Advance Wars, and little better - instead, it's exactly what it needs to be to spiritually succeed. It's small, in both character models and design ambition, but it's probably going to be massive. Despicable.
Wargroove is a pure strategy game that offers a tremendous amount of content to play and paves a way for its community to make their own touch.
Review in Arabic | Read full review
From the moment I started the first mission in Wargroove I was instantly transported back to my childhood and hours spent huddled around a Game Boy with friends marching tanks across the screen in Advance Wars.
The truth is that you never know when a game will change your mind about a gameplay style, and I had high hopes that this would be the case here. If anything, though, Wargroove solidified my distaste for this flavor of attrition-friendly turn-based strategy.