Percentile Rank
APE OUT is ranked in the 90th percentile of games scored on OpenCritic.
Rating Summary
Based on 74 critic reviews
OpenCritic Rating
Based on 74 critic reviews
Score Distribution
Unscored Reviews
Ape Out is a very special, surprisingly wonderful, downright brutal arthouse experience
Ape Out offers a simple, yet stylistic experience that will keep you occupied and entertained for hours. It stands out as a truly unique indie game that you don't want to miss. The challenge speaks for itself and is a real visual and audio treat.
Ape Out is a beautiful and bloody game that's given surprising depth by a tremendous soundtrack.
Ape Out is a rare breed. An arcade experience that both infuriates and ingratiates itself to you thanks to exciting, riveting mechanics and a wonderful sense of style that is only seriously held back by its brevity.
Between the game's stylish presentation and unique use of music, Ape Out feels unlike much else on eShop. The game is very much an impressive achievement from developer Gabe Cuzzillo, and those who value quality over length will find a great option in Ape Out.
Rock, Paper, Shotgun
Unscored
If nothing else, this is a game where you, a gorilla, can punch a man so hard that he crumbles into his constituent parts, and then pick up his arse and hoof it at one of his mates. I don't know what else to tell you.
Like so many games, Ape Out is a power fantasy. Unlike so many games, Ape Out seems keenly aware of its purpose.
Checkpoint Gaming
Unscored
Ape Out by Greg Cuzzillo is a fun fresh game that's too addictive for its own good. You'd be bananas not to give it a shot.
Scored Reviews
Ape Out is persistently challenging, completely bonkers and deliriously entertaining.
With simple and clear rules, Ape Out manages to remove often hidden layers about action games, and how a player understands – and adapts to specific situations – giving new insights on how practice and learning works in games. All fueled by one of the best jazzy tunes I've heard in a game.
Review in Portuguese | Read full review
I adore Ape Out. Visually it seems very uncomplicated, but step into the shoes of this gorilla and you will find that its simplicity belies a very considered approach to game design.
Still, if you are a fan of puzzlers and want something different, Ape Out is a terrific diversion. While you may only play it for a few weeks (it's not a very long game), you're going to have a blast doing it.
The Nintendo eShop would be a considerably more exciting and interesting place if it were packed full of games like Ape Out, it's a refreshingly original experience that more than deserves a place in any Switch owner's library. Difficult, frenetic gameplay, a strong art direction, and an even stronger jazz drum soundtrack make this the sort of memorable game that you'll likely keep coming back to over and over for another few runs at the arcade mode. We'd give Ape Out a strong recommendation to anyone looking for a distinct and unforgettable game for their Switch collection; it's a bit of an acquired taste, but this is well worth your time.
Whilst the concept is there in the title, the intricacies of Ape Out's are revealed the more you play. Every aspect creates a dazzling jazz mixtape that reverberates from eyes, to ears, to thumbs. And you're an ape. Which is great.
The game not only gets you to behave like a rampaging gorilla, it forces you to adapt like one.
Ape Out is an absolutely fantastic action game with an incredible sense of style.
With a resoundingly evocative and cathartic ending, and with various, small secrets waiting to be unveiled by the community and by the players, Ape Out is already a classic of the genre, for its extraordinary aesthetic and sound style, and for the excellent quality of the his game design.
Review in Italian | Read full review
Ape Out is a brutal and primordial smash'em up, a gorilla race on a jazz base.
Review in Italian | Read full review
Nintendo Enthusiast
9 / 10.0
Still, despite those issues, Ape Out is simply an outstanding and utterly enjoyable experience. The moment I became that big, angry monkey, I was glued to the screen and never wanted the action to end. The music dropped my jaw, the visuals made my eyes go wide, and the addictive gameplay kept me entranced until I reached the final level. The ape is truly out, my friends.
Ape Out is a stylized, adrenaline-filled action game that won't give you a single moment to breathe. If you're looking for a short, intense videogaming experience, the escaping gorilla won't let you down.
Review in Czech | Read full review
The gameplay is a big enough draw on its own, but when combined with the art direction and audio, Ape Out becomes near impossible to put down
Ape Out is a marvelous example of what can be done with gaming when a handful of talent think outside the box. Challenging, occasionally annoying, but addictive gameplay, painted in gorgeous splashes of colour and quirky, attractive visuals, all backed with a breathless score. This odd release is proof positive that creativity in gaming remains alive and well. Go Ape.
The Games Machine
9 / 10.0
Cuzzillo, Foddy and Boch have torn the cage of the creative processes by creating a model of their own. Ape Out is pure jazz: overwhelming, defiant and free. The monkey has escaped, infuriated, and wants to sow panic on the gaming industry.
Review in Italian | Read full review
Brilliant jazz improvisation in a game form. Fun, instinctive and harmonious.
Review in Russian | Read full review
The soundtrack, gameplay, and visuals all work together to provide a stellar experience that, to me, felt better in short bursts.
Ape Out is that rare mix of great art, sound and game design. It's a short but addictive experience with challenging, satisfying gameplay and an audiovisual style that instantly grabs your senses and doesn't let go.
Ape Out's near-perfect procedural polyrhythmic gameplay and music stays fun and exciting throughout. The games unique art style lends itself perfectly to the chaos and murder carried out by the games titular ape. While it can be a bit on the challenging side at times, the tight gameplay and frantic action will keep you coming back for 'just one more run' long into the night.
Ape Out is a dynamo of a game, simultaneously stylish and meaty, that manages to succeed as both a technical demonstration of procedural generation – particularly that magical audio – and a bloody fun game to boot. Between this, Gris, and Pikuniku, Devolver Digital is absolutely crushing it right now.
Ape Out is the kind of game that makes you glad the indie scene exists. It defines the type of game that is very easy to pick up, but it takes some real practice to conquer. It places pure action over story, with the reward for surviving every encounter being pure satisfaction. Failure is met with an immediate desire to try again instead of groaning in frustration. It's a gorgeous game, but more importantly, it ends way before the premise wears thin. In short, Ape Out easily goes on the list for one of the best titles of the year.
Ape Out is the embodiment of video game perfection. A clear artistic direction perfectly marries and compliments a simple, yet challenging, gameplay hook that keeps you coming back time after time. Additional challenging modes provide further replayability, and any excuse to keep playing is a good one in my books.
Ape Out is an intoxicating fusion of percussion and destruction that oozes style from every angle.
A refreshingly original game that takes its gaming influences and runs with them like a jazz soloist on a Saturday night, Ape Out is one game that elevates ultraviolence to an art form.
Short yet sweet, Ape Out combines a highly stylish aesthetic with enjoyable gameplay to make for an exciting experience.
Ape Out grabs you by the bananas and doesn't let go. A glorious combination of cathartic action, addictive gameplay and a rousing jazz backing.
Handsome Phantom
8.5 / 10.0
Throwing an enemy against a wall will decimate them. And decimating an enemy has never felt so good as it does in Ape Out.
NintendoWorldReport
8.5 / 10.0
The Arcade Mode and harder difficulty will test even the best of players and provide a decent incentive to come back. The sheer enjoyment of flinging guards into each other or through a high-rise window to their doom doesn't really get old, but the striking use of color and perspective truly set this game apart. If you don't mind the gratuitous body count and related blood splatter, Ape Out is a funky and fresh take on the top-down action genre. Now if you'll excuse me, I need to rock out with my Ape Out.
Ape Out is a game that is entirely the sum of its parts. Whilst many indie games look stylish, or sound cool, or have a solid gameplay mechanic, rarely do all three coalesce into something so memorably original. Ape Out will surely be one of the most unique games of 2019 and whilst it's short, it packs a knockout punch.
And it's here where once you understand the rhythm and feel of a level, the splashes of blood and primate rage truly becomes an instrument.
Ape Out is a pure adrenaline rush. A joy to play, to watch and to listen to, where game, graphic and sound design work to bring together a true synesthetic experience.
Review in Italian | Read full review
A striking abstract visual style soundtracked by a jazz freakout as improvisational as its gameplay, Ape Out glories in its primal rage for a wild ride. Give into its rhythm and bloodlust, and just go ape!
Ape Out is a wickedly inventive, ultra-violent romp that doesn't overstay its welcome
Ape Out is a fun and fast-paced action game with nary a dull moment. The brutal difficulty can go overboard at times, but even then it's never too daunting. This is one of the coolest games of 2019 so far, and any fan of slick, stylish action games should give it a go.
Channel your inner Harambe in the very brutal and primal Ape Out.
Ape Out is great if you've only got a few minutes or a few hours. Its simple design, constant excitement, and reward loop mean you can be satisfied with one turn or twenty.
Ape Out delivers a deliciously impactful take on the frenetic twin-stick formula. It uses the closeness of its melee encounters and excellent sound design to create an atmosphere of pure, unstoppable tempo. Its style is undeniable, and the craft on display is well worth the short time it takes to play through each of the game's four acts.
Cultured Vultures
8 / 10.0
While the procedural generation makes it slip on a banana peel somewhat, the rest of Ape Out is such a stylistic and hyperviolent joy that you can't but be charmed by it -- even the jazz.
A fantastically entertaining action game that combines gameplay, visuals, and audio into an irresistible orgy of violence and… improvisational jazz.
Ape Out breaks its cage with an amusing aesthetics and a wonderful and jazzy soundtrack, both of them procedural generated. In some way, it plays like Hotline Miami, with its own ideas, and a constant feeling of urgency. A game with an owerhelming personality, that even shows up when our ape dies, in a memorable and stilysh death recap screen.
Review in Spanish | Read full review
Ape Out is a clever mix somewhere between the twin stick shooter and the beat'em all genres, which rely on its colorful yet simple visuals and a fantastic sound design focus solely on the drums to deliver a violent and quite unique experience in a very, very difficult adventure to freedom. Those brave enough to fight hundreds of armed to the teeth guards will experience a tough but rewarding game will enjoy its beautiful artistic direction for sure.
Review in French | Read full review
Ape Out isn't for the faint-hearted, but if you enjoy Hotline Miami-style gameplay, I urge you to give it a go.
Deceptively simple and undoubtedly original, Ape Out's fast and frantic jazz infused gameplay never loses sight of what videogames are really all about: having fun.
Ape Out is a simple premise brought together wonderfully with the procedural nature of its music and level design to truly make you the maestro of your own escape.
Ape Out parades the alliance between thunderous jazz and an irritated bloodthirsty gorilla. Two unrelated objects defined by being out of control are both under your control in the form of a violent top-down brawler. Symbols crash when gorillas and humans clash and the performance is beautiful and preposterous.
Devolver Digital's Ape Out is a terrific and creative jazzy adventure for Nintendo Switch and PC.
Ape Out is the Whiplash of gaming – jazz-as-ultra-violence and sure to be one of the year's most brutally cathartic gaming experiences.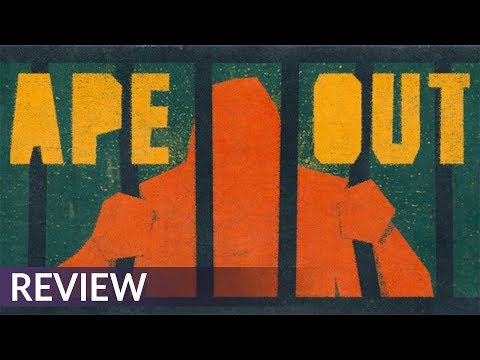 Should you dive into APE OUT? Indie junkies who were enamored with Hotline Miami beyond its aesthetic will find lots to like about the feel of the combat and tight integration with the soundtrack.
An Ape on the run looking for a way out is fierce to face, and fun to play as. Guide your ape to freedom, smashing any gun-wielding captors who get in your way!
Ape Out is a really surprising indie gem based on a dynamic music system with jazz tunes. The game is pretty short though.
Review in Slovak | Read full review
If you're looking for something with a deep story, items to collect and a leveling up system, then Ape Out is not what you're looking for. However, if you want something that gets straight to the point and plays like Quentin Tarantino's take on the Cowboy Bebop opening, then get ready for some whiplash whilst spanking the monkey.
Ape Out is every bit as fun as it is stylish, which are two features that usually result in a fantastic indie experience, so if you're even thinking about getting this game, quit monkeying around and do it.
Oyungezer Online
7.9 / 10.0
Ape Out is a game worthy of Devolver Digital portfolio with its amazing jazz music and unique art direction, but it may not appeal to everyone.
Review in Turkish | Read full review
While it can be fun to run around smashing stuff and listening to a cool soundtrack, Ape Out is a bit of a one-trick pony. When you boil it down, it's a maze runner with a smash-the-bad-guys element. Don't get me wrong—the theme may be simple, but the game is fun to play. It's challenging enough to keep you entertained for several hours so go let your inner monkey run wild for a while.
Ape Out is a fantastic audiovisual experience with a gameplay which is easy to pick up and also enjoyable. However, while its length is perfect for a single playthrough, it doesn't offer much to encourage playing more. And the randomness, while offering a fresh & unique experience on each playthrough, sometimes paves the way for unfair situations & deaths
Review in Persian | Read full review
Even though Ape Out is undeniably a top-notch production with its graphics and sound, its gameplay is disappointingly short-lived, especially after the novelty of it all starts to subside.
A sensational audiovisual experience that starts to drag around halfway in.
Ape Out prioritizes style over substance, but it's weird and interesting enough to justify a play.
An author game, Ape Out is a rhythm way in which we set the beat --punching our way through it.
Review in Spanish | Read full review
New Game Network
62 / 100
Mashing up unique aesthetics and gameplay doesn't always yield a perfect result, and Ape Out tries to fit together two disparate ideas without successfully navigating the challenges of such an endeavor. Too many elements just don't work at a fundamental level, making it an uneven effort at best.
Ape Out is a beautiful game that is impossible to forget, yet finds itself with plenty of imperfections. The lengths the game goes to empower players in the world of a trapped gorilla are perfect and make the game easy enough to recommend. That said, some minor tweaks to the procedural level generation and more options to take out goons could have given Ape Out the tools to rise to the top. A sequel could do more to improve on the gameplay formula and should be on everyone's radar, assuming Ape Out 2 is planned for the future, of course. Until then, Ape Out remains as an experience everyone should give a try, even if its gameplay does not quite meet the savory standards of its own presentation.