Percentile Rank
Hotline Miami 2: Wrong Number is ranked in the 60th percentile of games scored on OpenCritic.
Rating Summary
Based on 69 critic reviews
OpenCritic Rating
Based on 69 critic reviews
Score Distribution
Unscored Reviews
Hotline Miami 2 leaves me conflicted. There's lots to love here, but the structure makes it difficult to explore and exploit. It's still an absolute riot to play, and the urge to press on remains compulsive, despite the narrative hi-jinx. Its failings are never enough to truly spoil things - Hotline Miami 2 is definitely to be recommended. It's the sequel that everyone expected, perhaps. But I'm not sure it's the sequel the original truly deserved.
TotalBiscuit, The Cynical Brit
Unscored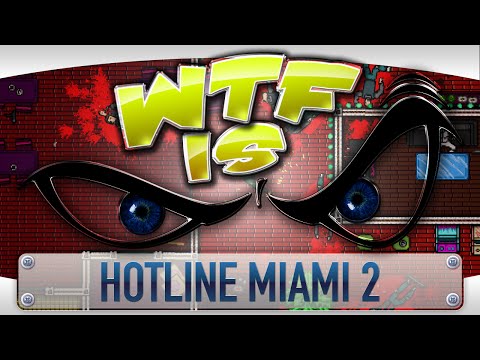 The first game, like a precocious child, asked a simple question: "Why do we like killing?" Wrong Number, like a disillusioned teen reading Vonnegut and lighting up a spliff, asks back: "Why do we, like, kill?"
Rock, Paper, Shotgun
Unscored
If it's playing I can close my eyes and feel what HLM made me feel. Because my associations for HLM2 are confusion and frustration more than exhilaration and escapism, the second doesn't seem to have power. But there are some lovely pieces in there for sure.
A convoluted storyline designed to pad out the game's length and some questionable level design which departs from the series' 'tough but fair' appeal makes this title weaker than its predecessor, but yet another sublime soundtrack, larger, even more brutally difficult stages, and a finely tuned gameplay experience helps to somewhat salvage things.
Scored Reviews
PlayStation LifeStyle
9 / 10.0
Altogether Hotline Miami 2: Wrong Number is everything the first game was, with improvements that change and evolve the game enough to feel like its own bloodthirsty monster. Playing as a variety of characters keeps your skills sharp and there are a ton of levels to master and enjoy. If extreme violence isn't your cup of tea, then you're probably not even still reading this, but if you enjoy a dark, yet neon story full of crime and murder, along with a rage inducing challenge, then Hotline Miami 2: Wrong Number is a bloody good time.
Twitch-based gameplay at its finest, with some of the best music ever featured in a game. Wrong Number ramps everything up to varying degrees of success.
Hotline Miami 2: Wrong Number is a game so savage that it can be unpalatable to certain players. But for those who enjoy the thrill of overcoming difficult combat where a single mistake can be your undoing, I can't think of a lot out there that's better.
At its core, Hotline Miami 2: Wrong Number doesn't do much different than its predecessor. It's gritty, pulp fiction cranked to eleven.
Hotline Miami 2: Wrong Number is more of the same, but that's not a bad thing if that's all you want out of it. After beating the sequel I was immediately inspired to go back and play the original, which in turn inspired me to start playing Wrong Number again. Between the level editor and the iron-clad gameplay, I'll be enjoying this franchise for years to come.
Hotline Miami 2 is everything you would expect out of the sequel. It's still as violent as ever before and best of all, it's still incredibly fun. With multiple playable characters, an interesting story, a phenomenal soundtrack, and intense gameplay, I have a feeling that Hotline Miami 2 will be on my top 10 list of games when 2015 comes to a close. Aside from a couple of issues, Hotline Miami 2 is incredibly fun and is a game that shouldn't be missed.
Brutally violent, Hotline Miami 2: Wrong Number is a perfect sequel that delivers a viciously pixelated action gameplay experience.
Hotline Miami 2: Wrong Number is a challenging and stylish game which entertains throughout, and delights in forcing you out of your comfort zone.
Hotline Miami 2: Wrong Number is a relentless, rhythmic, and brutal game of killing fast, and often dying even faster.
All told, an excellent follow-up to Hotline Miami. Level design isn't as tight as the first game, and certainly some of the novelty has worn off. But nevertheless, it's a thought-provoking, challenging, and well-crafted experience that any fan of the first game should check out.
Frustration gives way to fun and fulfillment as failure turns to success
Hotline Miami 2: Wrong Number is unapologetic, and unforgettable
Hotline Miami 2: Wrong Number is violent and unsettling but still pulls you in like nothing else. Its inherent flaws feel more pronounced the second time around but it's still the 80's grindhouse murder-a-thon you know and love.
Hotline Miami 2: Wrong Number is a great sequel. It innovates just enough to feel fresh but, unfortunately, takes a bit of player freedom away through its fixed characters. Sure, many of them feel great and have interesting abilities or weapons, but it does depend on how much you favor them over picking different masks and then going to town on the poor enemies that got in your way.
Overall, Hotline Miami 2 may suffer at some points due to it's level design, but when it gets good, it becomes astoundingly good. It's still the same top-down f*ck them up but only bigger, longer and more brutal. And certainly a must for players of the first, even if it is for the soundtrack alone.
It's a clear choice when deciding if you should pick up Hotline Miami 2: Wrong Number. If you liked the first game or just want something with some over-the-top violence, this is definitely worth a purchase. A story David Lynch would be proud of, great music, and twitch-action gameplay are even more reasons to pick this up and give it a shot. It's not for the faint of heart, but if you can handle the extremely mature content then by all means, enjoy tackling this wild ride. I'm sure it'll grab a hold of you and only let go long enough to bash your head in with a wooden bat.
If you're the kind of hardcore gamer looking for a challenging action-packed roller coaster ride then Hotline Miami 2: Wrong Number is a definite must-buy.
For those of us who sit our backsides firmly in that camp, Hotline Miami 2: Wrong Number is bloody - very bloody - good fun.
Music is superb throughout Hotline Miami 2. The synthy, high tempo soundtrack is almost worth the price of admission alone and will keep you tapping your feet as you murder, die, restart and murder again
Even though Hotline Miami 2 asks much of what the original title asked of players, specifically if they "liked hurting people," the tough questions and even harsher consequences made me want to keep looking, even if it was unbearable and uncomfortable to do so at times.
PlayStation Universe
8 / 10.0
Although Hotline Miami 2: Wrong Number is more narratively ambitious than its prequel, something has been lost in the transition. The levels, while good for the most part, simply do not match up those seen in the original game. Nevertheless, Wrong Number still stands as an excellent closing act for the series all the same.
'Hotline Miami 2: Wrong Number' delivers the same frenzied gameplay and thoughtful approach to plotting, but the overall experience is undeniably bigger in scope.
Hotline Miami 2: Wrong Number is certainly worth giving a go if you revel in action and the thrill of risk/reward situations. While newcomers may be left in the dark, fans of the first game will most likely complete it feeling pleased and satisfied. All things considered, Dennaton Games' second Hotline outing isn't quite as spectacular as it could have been – thanks to some flaws in its level design – but that isn't enough to make it anything less than great.
The Jimquisition
8 / 10.0
It's a great game. One I almost hate. One I find spiteful and cruel and perhaps even somewhat abhorrent. A game that's beautiful as well as hideous, that makes me feel queasy while keeping me thoroughly fascinated. Like a bizarre medical experiment, or a mime silently eating its own hands.
Hotline Miami 2: Wrong Number is the type of game that will get your heart racing and test your reflexes at each and every turn. It's late-80s-early 90s-infused world proves that arcade-style gameplay isn't dead — it just moved.
So is it worth playing? Definitely. Will it shock and awe players? Only those who are coming to this series for the first time. It's more of the same, but that's no bad thing, and if you're a returning player to this franchise, prepare to be frustrated, enraged and enthralled all over again.
Despite some minor issues, Hotline Miami 2: Wrong Number is exactly what the fans of the original want and an excellent jump-on for people curious to get into the series.
Wrong Number might not be the ambitious sequel you're expecting from Hotline Miami, but if you enjoyed the original, the way Dennaton plays with its essential formula makes for a worthwhile experience.
I'm not really a huge fan of the game's ending, but I truly enjoyed getting there, even though the game started to feel drawn out after a while, especially after I restarted some of the levels dozens of times over. But if you're looking for a game that provides a nice challenge, and you don't mind the trippy story, Hotline Miami 2 is a good way to go.
Digital Chumps
7.8 / 10.0
Hotline Miami 2: Wrong Number didn't make giant leaps in gameplay improvements, but the essence that made the first game great is intact and alive. Sometimes that is all that matters, especially in a game like this.
A decent sequel that pushes Hotline Miami to the limit. However, held back from greatness by a few niggling issues.
Hotline Miami 2 was in a very difficult spot. Had it solely done more of the same as the first, it would have endured criticism for not evolving. Instead, Dennaton has taken some of the formula that made the first game brilliant, and literally expanded pretty much everything in the game. Sometimes to its credit, but often to its detriment, Hotline Miami 2 hasn't quite managed to live up to the hype of the first game, and will often leave you feeling unfairly treated as a single bullet will come from literally out of nowhere. It's gone from a tightly paced action puzzle game, to a slightly flabbier paced action puzzler that relies much more heavily on the firepower that the first one encouraged you to shun so much. It's worth playing, if not for the soundtrack alone, but this is really the only area that it surpasses the original title. All in all, a shaky sequel that is built on extremely solid foundations.
There are some new elements of course, but where I expected a build on the previous game's mechanics into a brand new experience instead became the same basic feel in a different scenario.
Wrong Number is the right call for anyone looking for just more of the same, but some problematic focus on the wrong things keep it from feeling as fresh and exciting as the original. You should still buy the soundtrack, though.
It's still fast, violent, addictive and complemented by one of the finest gaming soundtracks available, so in many ways Hotline Miami has never been better. At times it's brilliant and at others it's disjointed but thankfully the Hotline Miami magic still exists in the wonderful collaboration of bullets, beats and bodies.
Changes to gameplay (negative) and narrative (positive) will probably be widely discussed among the game's fans and detractors, but the truth about Hotline Miami 2 is that your opinion about it will probably be very similar to your opinion about the first game. Did you enjoy the fast-paced gameplay of the original? You'll enjoy it again.
Hotline Miami 2 boasts a much larger scope than its predecessor but to its detriment the game insists on channelling players through an optimal path. A competent follow-up.
For fans of the series, there's a lot more Hotline Miami to play here and it still has its moments. For newcomers or people that didn't get into the first game, it may be a difficult one to get on board with.
Hotline Miami 2: Wrong Number lives up to original in a number of ways, even outpacing it in terms of stylistic violence. With a story that's all over the map, and constraints often placed on the player, Hotline Miami 2 takes away some of the fun from the original game -- just not all of it.
Hotline Miami 2: Wrong Number is an entertaining game, at least for the majority of its play time. It takes what made Hotline Miami great and made it greater, these being the weapons and level design. It is a much longer experience too, though personal playthrough times will be dependant on your skill. However, Wrong Number also tries to do too much too quickly, and its multiple character paths don't work as well as hoped. Add in the fact there are fewer masks and it feels like a major part of the game has been stripped out. Overall it doesn't quite reach the same heights as its streamlined, bizarre predecessor.
Not as good as the original, Hotline Miami 2 delivers a flawed dose of the high speed ultra violence that's fun but not essential.
Adding good new ideas to the formula, but unable to implement them without diluting the overall experience, Hotline Miami 2 isn't a disaster, but certainly lacks the original's fiery vitality.
Hotline Miami 2 is ultimately a lesser game than its predecessor, one that has just as many failings as it does strengths. Yet some of its ideas are so outstanding that it's absolutely worth playing if you can summon the appropriate amount of patience. It's an audacious game that takes risks and embraces experimentation. When so many franchises seem content on retreading the same ground, Hotline Miami 2 feels like an important, if often frustrating asset.
Hotline Miami 2: Wrong Number still sits atop the same solid, brutally violent core that made the first game a success, but it inherits all of its predecessor's flaws as well, and buries them within a bloated, altogether less satisfying experience. While the sequel isn't without its occasional charms, there's no doubt Hotline Miami would be destined for a greater legacy had it called it quits after the first spree.
New Game Network
61 / 100
Only saved by its incredible style and often intriguing storylines, Hotline Miami 2 is riddled with poor design choices, gameplay issues and various bugs and glitches.
'Hotline Miami 2: Wrong Number' is a love-it or hate-it kind of game. I guess that's not completely true, as in my case I both love it and hate it. The gameplay can be addictive, especially for those who stick with it. It can also be exasperating to the point of anger and despair. Its imperfections often threaten to destroy its delicate balance, but this one may appeal to lovers of the high difficulty.
Wrong Number, more than a direct continuation, is an expansion and affirmation of Hotline Miami's themes.
I wanted to like Hotline Miami 2. I adored the first game, and everything the trailers promised - new weapons, enemies, mechanics, and violence, oodles of violence - looked excellent. However, it's just not as enjoyable. The first game felt like a focussed blast of adrenaline. Hotline Miami 2's always stopping and starting, its new characters feel rough and buggy, and the new reliance on guns restricts how you can approach combat.
To its credit, Hotline Miami 2 isn't just "more of the same." But that's also its biggest problem.
Hotline Miami 2 is certainly worth a purchase from anybody who played the original over and over, but don't expect it to hit the same heights. Wrong Number? If only.
When it's good, Dennaton's subversive, hyper-violent sequel is outstanding, but questionable design decisions and a confused story means it does not have the precision of its predecessor.
Hotline Miami's thrillingly brutal gameplay is stretched to the point of breaking in this aesthetically pleasing, but otherwise disappointing sequel.
Hotline Miami 2: Wrong Number has much to appreciate yet by comparison, the original game was perhaps a textbook example that, sometimes, less really is more.
A stellar soundtrack and fascinating story rescue an otherwise disappointing sequel. In an effort to be bigger than the original, Hotline Miami 2 bloats its arcade gameplay into an grinder that punishes risk-taking and frequently feels irritating or unfair, not satisfyingly tough.
Restrictive design decisions sap the energy from a series that revels in it, and technical issues deal the killing blow.
However, these added touches and wonderful, momentary glimpses of what Hotline Miami 2 could have been only stand to make the game more disappointing. Dennaton have claimed that this will be their last Hotline Miami, but I hope we'll see a third entry in the series as this isn't the fitting finale that it deserves.
In trying to go bigger and better with Hotline Miami 2: Wrong Number, the majority of what made the original so good has been lost. Levels are far too large, many enemies cannot be seen, and the mask system is effectively done away with for a poor substitute. This is still Hotline Miami; it's just not as exhilarating. Ironically, the planned level editor may be what saves it, where fans can potentially create surpassing stages akin to those found in the first game. For now, though, if yet to taste either title in the series, definitely make sure to buy the prequel over this for the ultimate and most thrilling experience.
Hotline Miami 2 is a messy, aimless sequel and a step back from the original. Many of its levels feel like crafted set-pieces rather than playgrounds for violent expression, and your scope for creativity is stifled as a result. When you're deep in the moment, chaining kills as that remarkable soundtrack vibrates through your headphones, it feels fantastic. But it struggles to hold onto that feeling as firmly as the first game, diluting the purity of its compelling core loop with an endless parade of under-developed ideas.
It's essentially a glorified DLC pack of new levels, plus a level editor for folks who want to make their own murder rooms. The exact people who Dennaton Games were supposedly condemning in their first title are, apparently, the exact audience of people whose money they would like to take, again and again. I guess they figure those people like rape and torture, too, plus more methodical killing. Maybe they're right—but it's too bad, since it comes at the expense of making a game that has anything whatsoever to offer beyond phoned-in grindhouse schlock.
Geeks Under Grace
4 / 10.0
Those playing Hotline Miami 2 may find themselves engaging in a litmus test for masochistic tendencies.