Enter the Gungeon is a good shooter that underdelivers on its promise. It's still fun, but there are better examples of the genre.
Enter the Gunegon combines familiar ingredients but the result is unique and delicious.
Enter the Gungeon's design is quite sophisticated for a game about shooting bullets at anthropomorphized bullets with guns; it uses elements of one genre in the context of another, enhancing its most enjoyable elements. Despite there being so many more moving parts than in a typical arcade shooter, it somehow feels more immediate and focused on getting you into the action and keeping you there. And where other similar games can run out of novelty within a few hours, Enter the Gungeon is still surprising me with new implements of destruction after 50 hours of play.
A clever mix of well-worn genres, that knows exactly what to take from each in order to create its own entertainingly unique experience.
Succeeds as a shining example of the bullet-hell roguelike that's just tough enough without coddling the player
Enter the Gungeon is a challenging roguelike with awesome ideas that often contradict one another.
If you're looking for a roguelike twinstick shooter, Enter the Gungeon is one of the best. You'll shoot and dodge roll your way through procedurally-generated levels. Over 200 guns and secret rooms means you'll dive into the Gungeon again and again. It's not the most most innovative roguelike, but what it does, it does well.
With tons to find, unlock and kill, Enter the Gungeon is easily recommendable to those that don't mind a bit of repetition and difficulty, and especially to fans of Nuclear Throne and Binding of Isaac. While it doesn't totally reinvent the twin-stick shooter, it has all but perfected it and is worth every penny.
Enter the Gungeon naturally won't be for everyone, especially with its high difficulty and the pixel art graphics, regardless of how well crafted they are. It is, however, an excellent blend of roguelike and satisfying bullet hell gunplay that's easy to dip into time and again.
There's a lot of depth in this game and it's a real treat to play, assuming you're the patient type that sticks around long enough to enjoy it.
A game that's clearly the product of passion, talent and dedication, Enter The Gungeon is an exciting twin stick shooter that mixes up elements ranging from The Binding of Isaac, Dark Souls and Ikaruga (among others...). The result is a delightful and sadistic cocktail that the most hardcore gamers will fall in love with, but also one that is definitely not for everyone.
Review in Italian | Read full review
I really hope they patch this soon because despite the issues, I've had a blast playing portable Enter the Gungeon.
Enter the Gungeon is slick, smooth and bombastic to play with a deluge of weapons and randomly generated weapons to keep things interesting. While it doesn't bring anything brand new to the genre, it's still a nail-biting thrill ride of a game worthy of high praise.
While the Rogue like genre may be getting a little crowded, there's certainly room for the likes of Enter the Gungeon. It ticks all the boxes, with gameplay that beckons you to come back for one more run, a great art style and presentation, and seemingly something new discover or unlock on every playthrough.
An interesting and fun roguelike, albeit one which doesn't capitalise on its potential.
Enter the Gungeon is a fast paced dungeon shooter that punishes and rewards in equal measure. Easy to get into, and tough as nails when it wants to be, Dodge Roll's energetic and hilarious loot 'em up is sometimes frustrating, but more often a joy to experience.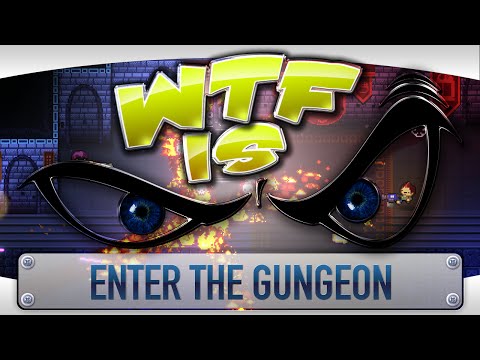 This is the genre done right, although with an upbeat, uncruel approach that feels atmospherically more reminiscent of Rogue Legacy than, say, Nuclear Throne. It's very silly in presentation, but very serious in pixel-perfect controls. Goodness knows if it's good deeper in, but I'm having a brilliant time not finding out.
Enter the Gungeon is a charming bullet hell/roguelike hybrid that manages to balance the best elements of both its genre influences while carving out an identity of its own.
The poor performance hinders the core gameplay too much for the Xbox One edition to be anything more than the worst version of an otherwise great game.