Rating Summary
Based on 11 critic reviews
OpenCritic Rating
Based on 11 critic reviews
Spread the word:
Game Information
Available on:
PlayStation 4
Mar 24, 2016
PlayStation Vita
Mar 24, 2016
Developer: Team Ninja
Publisher: Tecmo Koei Games
Genre: Sports
Description:

Notorious in it's promotional material and absolutely unabashed at what this title is about, DOAX3 carries on the tradition of this spin-off by taking the girls of Dead Or Alive and pitting them in a no holds barred beach vacation filled with mini-games designed to showcase the new technological advances of the series. Apparently there is volleyball or something ;) By using the upgraded Soft Engine 2.0 for the PS4 Version (an improved breast engine based off Dead Or Alive 5 Last Round) and the Soft Engine Lite (PS Vita Version), 4 main changes have been made to the character models. New skin shaders give off a realistic and healthy vibrancy, and breast physics have been fine tuned for maximum voluptuousness. As well, game changing booty physics have been fleshed out, along with the fact that no other game contains such realistic tanning. The main stay Camera Mode also returns. There are 9 characters in the roster, selected based on a popularity contest where the results were announced during the Toyko Game Show 2015: Marie Rose, Honoka, Kasumi, Ayane, Kokoro, Nyotengu, Hitomi, Momiji, and Helena Douglas complete the roster, with no plans for DLC.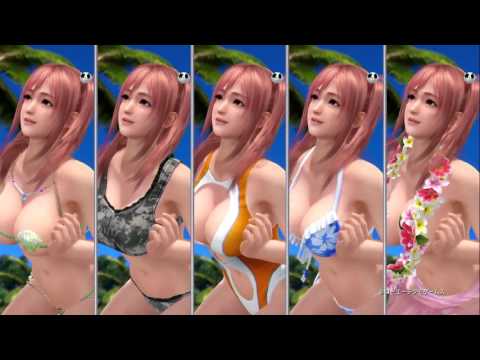 DEAD OR ALIVE Xtreme 3 - Second Gameplay trailer