No Recommendation / Blank
Apr 4, 2017
Playtonic's tribute to Banjo is a gentle, irreverent platformer let down by spotty handling and a slight shortage of genius.
Yooka-Laylee contains all the pieces needed for a fun, enjoyable throwback to the 3D collectathons of the 64-bit era. The characters are charming and funny, your set of abilities is vast and entertaining, and four out of five of the worlds are fun playgrounds to explore. While it lacks the heart and polish of some of its incredible predecessors, it's a good reminder that this genre, once thought to be dead, still has some life left in it.
A decent revival of the N64-era 3D platformer, but with all the flaws that carries, as well as some new ones of its own.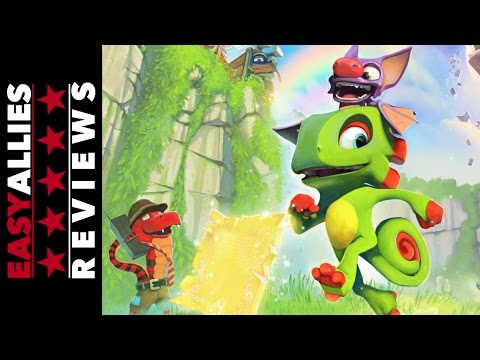 Evoking the essence of late-'90s platforming without significantly modernising it, Yooka-Laylee is a game with noble aspirations, grounded by clumsily flawed execution.
It perfectly fulfils its brief of being a new Banjo-Kazooie game in all but name, but Yooka-Laylee's reliance on nostalgia may struggle to find new fans.
Full of fun exploration, exciting encounters, and tons of collectibles, Yooka-Laylee is a modern take on a classic genre
A new coat of paint can't fix Yooka-Laylee's old design problems
Yooka-Laylee delivers on nostalgia but is held back by outdated gameplay and underwhelming levels.
The parts are significantly greater than the whole. There's fun to be had but it doesn't come easily. And if I never have to collect another shiny again, it'll be far too soon.
Yooka-Laylee is built out of the heart, soul, guts, and bones of Banjo-Kazooie. It's exactly what fans of Rare's classic 3D wanted. Unfortunately, technical issues stick to it like bat guano.
By not holding up Banjo-Kazooie as the last bastion of platformers, Playtonic was able to turn Yooka-Laylee into an overall improvement on the formula it so closely mimics. We're coming up on a relatively dry patch of 2017, and, if I'm counting on Yooka-Laylee to be my own personal flying lizard to carry me, I don't think I could be in better hands.
Banjo Threeie is probably never going to happen, but after playing Yooka-Laylee I'm fine with that for the first time in 17 years. Playtonic's first foray is rough around the edges, but the center is so full of heart that it'll melt away the more you play it. How much of that roughness you can put up with entirely depends on your history and mental fortitude for mascot platformers. For some of you that threshold is pretty low, but for me, it's as high as Laylee can fly.
A true classic platform game. It plays and feels like some Rare masterpieces such as Banjo Kazooie or Conker BFD. It seems that Nintendo Switch was designed for games like Yooka-Laylee.
Review in Spanish | Read full review
Although it does not bring anything new compared with previous versions, Yooka-Laylee is perfect for Nintendo Switch and its type of gameplay will make you stay playing this fun game for lots of hours.
Review in Spanish | Read full review
Of all the potential hurdles to snag on in creating a 3D platformers in the style of the late nineties classics, Playtonic deftly avoids the most egregious ones by far. At its very core, Yooka-Laylee succeeds in reviving a format long forgotten and does so with such vigor and passion. However, players shouldn't expect it to reinvent the genre.
Yooka-Laylee is a 3D platformer like those we had in the past and a great successor for Banjo-Kazooie. The gameplay is almost the same, just putting a chameleon and a bat in the place of the bear and the bird. The true Rare is now called Playtonic Games.
Review in Spanish | Read full review
Yooka-Laylee is the triumphant return of the true platform games. Playtonic has managed to mix everything good of this genre and turn it into something fresh and wonderful.
Review in Spanish | Read full review
I imagine there will be people who won't find this kind of flavor appealing, who might consider the game to be dated and maybe even outright pandering, but I'm not one of them.
Yooka-Laylee is the perfect tribute to the 90's 3D platforming videogames, a very fun experience for the new players and an exciting return of the genre to its roots for the older users. Long, fun and very joking, its camera becomes a harder enemy than Capital B, the game's main villain. [Jose Rodríguez separately reviewed the PS4 (8.0) and Nintendo Switch (7.8) versions. Their scores have been averaged.]
Review in Spanish | Read full review