Mario & Luigi: Bowser's Inside Story + Bowser Jr.'s Journey
Back to Summary
One of the best portable role-players ever made and a joyful mix of bizarrely inventive gameplay and surprisingly sharp comedy.
The excellent writing, silly premise, and fun combat all translate well to the updated visual style. The added Bowser Jr. mode is worth exploring, even if it's not the main attraction
One of the best of the modern Mario RPGs comes to 3DS with a few new tweaks and a cute new mode, and it's just as fulfilling as ever.
It's tough to recommend this release to anyone who already owns the DS version, a game that is still completely playable no matter which member of the 3DS family you own. Everything that was great about the original is still great here. But if you're one of the dwindling number of people still rocking a 3DS and you have yet to take a trip to the bowels of Bowser, it's an unforgettable adventure full of wit, charm, and comedy. Bowser Jr's Journey may not add anything worthwhile in regards to gameplay, but it does reaffirm that the strength of the Mario & Luigi franchise lies in its writing.
Mario & Luigi: Viaje al centro de Bowser + Las Peripecias de Bowsy arrives at Nintendo 3DS with the same magic, the same mechanics, and the same charm that a whole generation of players fell in love with a decade ago.
Review in Spanish | Read full review
If you've never played a Mario RPG before and feel stubborn about not jumping in with the SNES era, this would be an excellent starting point. But do it quickly, and make sure you catch up – this is a genre you've definitely been missing out on.
An addictive and snappy game with a lot of charm, worth your time and cash.
Review in Italian | Read full review
Mario & Luigi: Bowser's Inside Story + Bowser Jr's Journey is a one-two punch of fun, casual and amusing gameplay, complete with all the expected charm, humor, and challenge expected of a game in the Mario Universe. Bowser's Inside Story is one of the more odd and varied titles I've ever played, but it is a little too easy. The overall product combines several of the best game styles into one, yet the final product feels incredibly cohesive and is a must play modern Mario experience.
Bowser's Inside Story is one of the best in the Mario RPG titles and should be played.
While I don't personally think it is the best introduction to the beloved franchise—I feel like I missed a lot of little things—it was never designed to be, and it is a strong title with good gameplay, fun comedy, and a lot of memorable scenes. For me, Mario & Luigi: Bowser's Inside Story (as well as Bowser Jr's Journey, which, while aimed at younger children, is still entertaining) is worth the price tag.
Mario & Luigi Bowser's Inside Story returns, this time to the 3DS in a new version of the original which might not be a revolution but brings its mix of charming visuals, soundtrack, gameplay mechanics and humour. The additional Bowser Jr. component does not bring extraordinary changes but this is a good and enjoyable experience that brings back one of the most memorable RPGs featuring some of Nintendo's most beloved characters.
Review in Portuguese | Read full review
The effectiveness of the game's humor doesn't always tie back to the concept of Bowser as a frustrated, impotent vessel.
Bowser Jr.'s Journey may not offer a ton of new content, but the core game is as good as ever. It might not be as enticing for returning players, but those on the hunt for a fun, relaxing RPG with quirky humor and a silly story will feel right at home.
You go inside of him, so it really couldn't get any deeper than that.
Don't let Mario and Luigi's top billing fool you. This game is as much about Bowser and his spunky son as it is about Nintendo's popular plumbers. Bowser's Inside Story is a great remake of the DS classic, boasting JRPG gameplay that still feels fresh and fun a decade later. The addition of Bowser Jr.'s Adventure, meanwhile, gives the young Koopa prince a much-deserved turn in the spotlight along with the Koopalings. Battles in the main game can be a bit too long while Bowser Jr.'s skirmishes could be a bit more fleshed out. Overall, however, Mario & Luigi: Bowser's Inside Story + Bowser Jr.'s Journey is a must-have for your 3DS library.
A great new version for one of the most beloved Nintendo's RPG games. Mario & Luigi: Bowser's Inside Story + Bowser Jr's Journey is a most have to all 3DS owners.
Review in Spanish | Read full review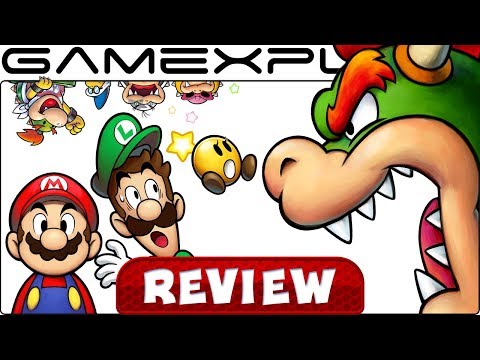 Ten years after the original, Mario & Luigi's third adventure makes a great come bakc, thanks to its graphic renewal and the addition of a new campaign, once again staring Bowser Jr. Whether you already played the game or not, this reedition of one of the best episodes the series delivers should definitively be worth your time.
Review in French | Read full review
Mario & Luigi: Bowser's Inside Story + Bowser Jr.'s Journey stands as a well-made remake of a game that was excellent to begin with, polishing up the original in small ways and adding some extra content that meaningfully establishes its own identity. If you've ever been a fan of the Mario & Luigi series (or are looking for a reason to dust off the old 3DS), do yourself a favour and pick this game up. Although Bowser Jr.'s Journey is just an 'okay' addition, the inventive battles, great writing and creative gameplay of the main game make this one an easy recommendation.
Already the best game in the Mario & Luigi series, the new graphics and presentation raise it to new heights on the 3DS!